Earlier this week, former George Washington University President Stephen Joel Trachtenberg told listeners of The Diane Rehm Show that women need to be "trained" to drink less so that if a guy tries to rape them ("misbehaves") they can soberly "punch him in the nose." Unsurprisingly, students and alumni are displeased.
A Change.org petition has already started demanding Trachtenberg apologize to GWU and sexual assault survivors, and make a matching donation to a fund that aims to hire a sexual assault Survivors Advocate to work on GWU's campus.
The university's feminist alliance has condemned Trachtenberg's remarks, Twitter is fired up, and we've gotten a few emails from alumni who have expressed their dismay and embarrassment over his continued association with the school. And there's this.
Trachtenberg weighed in on the fallout with Mother Jones, and, like so many clueless old guys before him, made matters worse. But great news, guys: we, your devoted Jezebel staff, are basically Roma Downey.
Jezebel has a world view that informs their prose. They are an advocate for an important cause and they take every opportunity to make their case. Sometimes in their enthusiasm they may get a little overheated. It's hard to resist an apparent opportunity when you believe you are on the side of the angels.
G/O Media may get a commission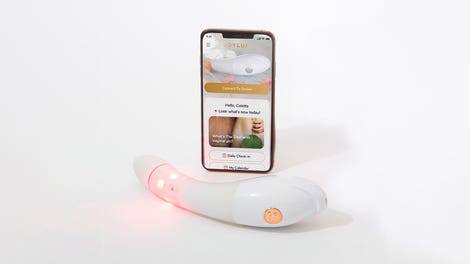 $50 Off
Joylux vFit Gold Device
Maybe ladies need to be trained to get less overheated. IDK.
Again treating rape like a public relations problem, GWU's administration responded to the controversy with a statement that is — pardon my French, but — piss-fucking-poor.
Sexual assault under any guise and regardless of the circumstances is repugnant and unacceptable. It will not be tolerated in our community.

Many dedicated faculty members, students, and staff are advancing our efforts to create a university culture in which every member of our community understands that sexual assault is unacceptable. The university is also committed to fully supporting victims of such acts and treating appropriately those who are found to have committed them.
In a tragically ironic twist, current GWU students got galvanizing bit of the reality of campus sexual assault just this morning, as a tipster forwarded us this email notifying the GWU community that a rape had occurred in a fraternity house. Last night.
From: GW Safety and Security<>
Date: Thu, Aug 28, 2014 at 1:47 AM
To: GW Users <>
Sexual Assault - additional information:

The suspect in this case has been identified and has been contacted by police. The investigation is continuing at this time. Anyone with additional information about this case, is asked to contact MPD at 911.

Sent by GW Safety and Security through GW Alert.

————— Forwarded message —————

From: GW Safety and Security <>
Date: Thu, Aug 28, 2014 at 12:35 AM
Subject: [GW ALERT] Sexual Assault
To: GW Users <>
Subject: GW Safety and Security Alert

Incident: Sexual Assault

Suspect Description: The victim stated the suspect is a white man in his 20's with shaggy blonde hair, possible name of "Sonny" last seen wearing a yellow ball cap with flat brim, pink polo shirt and blue shorts.

Location: PSK House, 601 21st Street, NW.
Action: Report anyone matching this description to GWPD or MPD. Call 202-994-6111 or 911
Status: The suspect has not been apprehended. Officers are trying to locate him at this time.
Image via AP