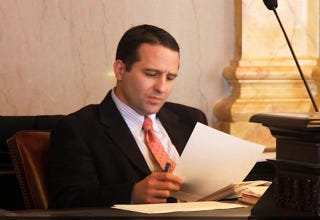 The wife of a Republican state senator in Ohio called 911, saying "He's mad; he's got the gun." Eventually, she didn't press charges, but The Columbus Dispatch got ahold of the recording of the cops' subsequent visit. And it's really fucking creepy.
For one thing, he told the cops when they showed up, "She got a little upset. Girls do that." There's more:
On the recording, Sen. Jordan tells deputies that he works at the Statehouse, "until she gets me thrown out of office," he said. "Over (expletive) not cleaning the upstairs ... and then me pushing some towels over and some other stuff over."
The senator's wife told cops that her husband had a drinking problem and said, "This is not new. He's done this numerous times, and I just got sick of it and I just had to call." She said there were 10 to 15 unloaded guns in the house. In a statement, she said she was going to make the marriage work. But hopefully the guy's constituents will be less forgiving.
Prosecutor Won't File Charges Against Senator [Columbus Dispatch, Via]