The New York Times' Bill Carter crunched the numbers on how many women there are in late night comedy writers' rooms. As you might guess, it's pretty ugly. (And, as it turns out, smelly).
Though women now comprise a majority of their viewership, late night remains stacked with men. Here's a breakdown based on Carter's piece:

"The Jay Leno Show": Zero.
"Late Show with David Letterman": Zero.
"The Tonight Show with Conan O'Brien": Zero.
"The Late Late Show with Craig Ferguson": One, apparently (his sister).
"Jimmy Kimmel Live!": One.
"The Colbert Report": One.
"The Daily Show with Jon Stewart": Two female writers just added.
"Late Night with Jimmy Fallon:" Three out of "about a dozen."
So congratulations, Jimmy Fallon, on being the tallest dwarf! Of course, there is one break from this monotony, and it might not be a coincidence that the host is female!
"Chelsea Lately with Chelsea Handler": Five out of ten.
Which brings us to another point made in the piece: even if writers' rooms were full of women, nine times out of ten they'd still be writing for a male voice:
"When you're writing for late night, you're writing through one person's prism, and that person at the shows you're looking at is always a dude," said Hallie Haglund, one of the new writers on "The Daily Show. " Allison Silverman, who has served as the only woman writer first on "The Daily Show" then on Conan O'Brien's staff, said she had no trouble assuming the voices of male hosts. But she added, "I don't think the issue of sensibility is off base. The hosts and the staffs I worked on often resembled one another. Have you seen how many tall Irish people are on Conan's staff?"
G/O Media may get a commission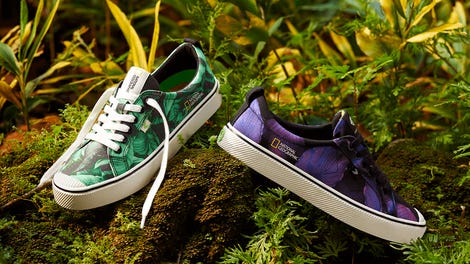 New New New
Cariuma + National Geographic
Not surprisingly, the few women that did make it onto writing staffs have coped with being odd woman out with, well, humor:
"I would walk into Lizz [Winstead]'s office, where the writers were assembled to hear the day's jokes, and would want to exercise my executive producer privileges by sending half of them home to shower," Ms. Smithberg said in an e-mail message. "I wonder if the corollary we should be examining is between body odor and humor rather than gender and humor."
There's only one way to find out: hire more women writers. (And um, smell them.)
Among Late Night Shows, Few Women in the Room [New York Times]
Related: Letterman and Me [VF]
Image via The New Yorker