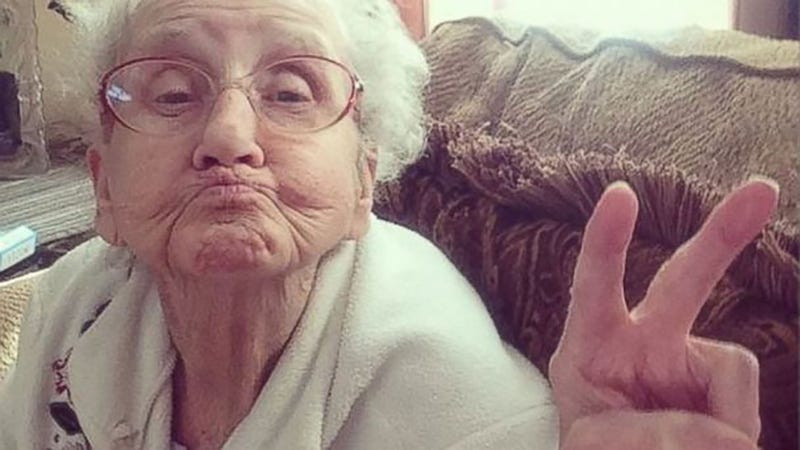 When Betty Simpson was diagnosed with cancer, her great-grandson set up an Instagram for her to celebrate her life and keep a record of her battle with the disease. What neither suspected is that Betty would become a bona-fide internet icon, amassing thousands of followers on her account and even attracting the attention of celebrities, including Pharrell (who followed Simpson after she recorded a video of herself dancing to "Happy.")
Simpson's great-grandson Zach Belden started the account when Simpson's condition worsened after he diagnosis, and according to Simpson, he spends all of his time when he's not at school with her, taking photos and short videos to document the moments that he and his great-grandmother have left. "He loves me so much, that's why he did it. He doesn't want to lose me and he's just good to me," Simpson told ABC during an interview about her new-found celebrity.
Along with videos of Simpson dancing to Pharrell and big band music ( a must-watch; I want this woman to be my grandma), the account also features videos of life advice that Simpson has for followers. Here's her biggest life lesson:
And here's Grandma Betty dancing to "Celebrate" to thank her fans for all the love.
Man, between Grandma Betty and Evelyn, I don't know who I want to grow up to be. ( I guess I want to grow up to be old and awesome is what I'm saying.)
Images via Instagram.