Last night's Grammys were, let's face it, a little humdrum on the fashion front. Aside from Charli XCX's Moschino tux, Madonna's matador look and Rihanna's gorgeous cotton candy pop of a Giambattista Valli—which many people seemed to hate, and were absolutely wrong—there wasn't a lot of experimentation going down. Which is disappointing, because the Grammys are where you're supposed to get crazy. But there were afterparties! And they were... slightly less boring!
Ana Gasteyer Satirizes the Girl Boss in 'American Auto'
Charli XCX, who receives an annual Grammy for person we would most like to afterparty with, ditched her Ken tux for its polar opposite—a Barbie tutu and a teacup puppy. Gotta be honest, have hated this doll-derivative incarnation of Jeremy Scott-helmed Moschino, but every time, Charli makes it work. Alternately, Keke Palmer is giving I Will Cut You face in a lace bathrobe and simple, devilish pointy pumps, a minimal ensemble that is both sophisticated and murderous.
Tinashe's got sleek on lock, too, in a barely-there shade of leather bustier dress and matching pumps. I like this dress because it looks like if you spill a drink or hors d'oeuvre on it, you could just towel it off. Zendaya is wearing her same plaid dress from the red carpet at the Grammys, but I love it so much I wanted to look at it again; it has a very distinct vibe of the drapes my mom thought were The Sickest in the late '80s, along with a trend-bucking, totally daring brown leather shoe (brown leather!), and yet because she is Zendaya she's like, yeah I'm coming to your party in your mother's drapes and a pair of old Jessica Simpsons and you will bow down to me because PS, this is my new haircut. Flawlessly NGAF.
G/O Media may get a commission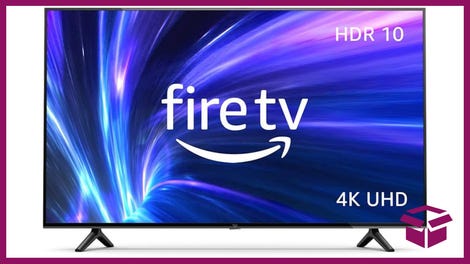 42% Off
Amazon Fire TV 50" 4K Smart TV
I'm so on the fence about Japanese pop star Aoyama Thelma's look; on one hand it is exactly what I would wear if I were a pop star (and/or Charli XCX two years ago), on the other its "SWEET" "DIVA" "FUN" "ANGEL" messaging is a bit too on the nose. Or is it perfectly on the nose. Should it be even more on the nose? Yeah fuckit, I love this, do you Aoyama Thelma. Kat Graham is wearing the pajamas they gave her last time she visited her fave Maine Bed & Breakfast, thanks for the lace cuffing Margaret, we'll be sure to holler next time we're in Vinalhaven.
Rita Ora is not that tiny, she just looks that way because the Getty photographer was clearly instructed to take shots of celebrities that included the GQ/Giorgio Armani logo as large or larger than they are. That does not make her tiered flounce of a babydoll dress any better, but her haircut is sweet. Yes, that is Sheryl Crow on the right, looking stunning. I would not have chosen that dress for her or myself or anyone—honestly, it's just too drab, and also the sheer cutout is a deeply odd shape—but still, she is Sheryl Crow, exuding cool strength.
Speaking of awkward sheer cutouts, Brittny Gastineau maybe needs Kanye to come over and remodel her closet, because this piece from 2003 somehow made it to the front of the rotation. "Distressed look" sequins are very difficult to pull off; moreso when you are very clearly trying out for the mermaid role in the next Cirque du Soleil gig at Treasure Island, Vegas. Jessie J, while I will never forgive you for that boring Tom Jones duet at the Grammys, an even worse infraction may be those combination sandal-knee boots. Please stop. Speaking of 2003, here is Paris Hilton. Ayo!
Oh, but there were so many fly couples out on the town last night!
On the left, we have B.O.B. and Sevyn Streeter like they just stepped out of a Complex shoot—an impeccable combination of casual streetwear and, what, midtown cool? Yeah, this is midtown cool. Sevyn's grey-purple hair is my fave, actually. Janelle Monáe and dapper friend are taking the nightlife pantsuit to new levels, as are Mark Ronson and Joséphine de La Baume, both tiny-fied due to GQ photographer effect. Oh, and Miguel and Nazanin Mandi, too: did they all fax each other before going out? Pants are the new ballgown, after all.
Charli performed at the Warner Music party at Chateau Marmont, in yet a third ensemble change. This is how I want to feel all the time.
Images via Getty