This year's Grammy red carpet was so weird — and so weirdly entertaining — that designations like "good" and "bad" almost seem arbitrary. You'll have to be the judge...although in the case of Nicole Kidman, I'm guessing we'll reach consensus...
The Good: Don't worry: sparkle-motion was well-represented. Selena Gomez was grown-up glam incarnate.

LeAnn Rimes contrasted sparkle with drape.


G/O Media may get a commission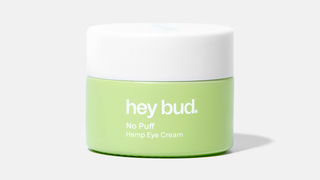 15% off
Hey Bud - No Puff Hemp Eye Cream
You know I love it when Kim goes pure bombshell.


Janelle Monae, red-carpet version.


Heidi Klum reps Old Hollywood.


Selma Blair continues the run of amazing maternity we've seen in 2011.


Loving how Margaret Cho's sober romance highlights her ink!


It's the lines that make Jennifer Hudson's getup.


Dianna Agron channels "Madame X."


This isn't my fave of Lea's choices, but let's face it: the dame looks fabulous.


Anna Nalick's seaweedy exercise in excess is among the evening's best!


Nicki Minaj does not disappoint. And this should mark the ne plus ultra of the leopard trend.


To understand the full glory of Florence Welch's symphony of awesome...


You gotta see the back view!


Keri Hilson combines eccentric and pure pretty.


Cyndi Lauper, unbowed, unchastened, unshamed, fabulous.


The Bad: I'm sorry, this is just unfortunate.


I'm sure Justin Bieber's a nice kid, but man, he looks like the douchiest Junior prom king in the world in this getup.


Eva Longoria takes a walk on the harlequin-costume side.


Skintight and sequins and animal print? A bit Liberace, Miley.


Amber Riley's normally one of my red-carpet reliables, but this is just too reminiscent of toxic-waste emblems for comfort!


On the plus side, Kelly Osbourne is probably making her inner five-year-old very, very happy.


Y'know, I think with a different bodice, Natasha Bedingfield might have pulled this off. What say you?


I fear J.Lo forgot her pants. Happens to the best of us.


Someone thinks he's Hunter S.Thompson (as played by Depp.) He ain't.


If Mya wants to feel like she has poisonous asps crawling up her dress all day, I guess I shouldn't mind...


Hayley Williams goes for dramatic simplicity. Sorta.


Jordin Sparks' dress is like a curtain opening on a show that closes after one week of lackluster ticket sales and abysmal reviews.


Well. I guess we know who's buying that million-dollar Victoria's Secret jewel-encrusted bra. And that last shower curtain at Bed, Bath and Beyond.


I'll be frank: I kind of love this. But at the end of the day, it's just a little Varsity Blues.


Then things took a turn for the Burlesque. Exhibit A: Kristine Elejaz.


And Gram'ma Funk.


Adrienne Lau.


And did we mention...Aleesia?