Grace Coddington says that young designers could stand to have "a few things going wrong in their life. I mean, I hate to say it, but it teaches you a hell of a lot, you know." Coddington continues, "I think they need time, and I think too many of the young designers really think that they can step right out of school and be a best seller, and that's a mistake," says Coddington. "I mean, you know, Nicolas [Ghesquière] took forever to get where he was. Marc [Jacobs] got fired 10 times before he made it."
Ana Gasteyer Satirizes the Girl Boss in 'American Auto'
Coddington, the legendary Vogue stylist, foil to Anna Wintour, and reluctant breakout star of The September Issue, is promoting a new memoir (co-written with Michael Roberts) that is published this week. The 71-year-old was reportedly paid $1.2 million for the book, and she is now submitting to the indignity of talking to reporters about it:
"They gave me media training. And I was a total failure. They were like, 'Oh, can't say that, oh, you can't say that, and it's not politically correct to say that, and don't swear.' But I swear like a trooper."
Coddington — who made the cover of this month's i-D — also describes what it was like to send her manuscript to Anna Wintour:
"Oh my God, I was nervous, of course I was. Because she and I are very entwined — and I was nervous that I had said too much about her, from her point of view. But I was also nervous that she would think it wasn't well written or not well laid out. But she wrote me a really long letter saying she loved it and that was a big relief. She trusts me. I don't have anything horrible to say about her anyway, and I know everyone out there is probably hoping I get really nasty about her. A) I wouldn't, and B) I don't have anything bad to say. She's my boss and you have to respect that she makes the magazine what it is, and we all contribute. Ultimately it's her show."
G/O Media may get a commission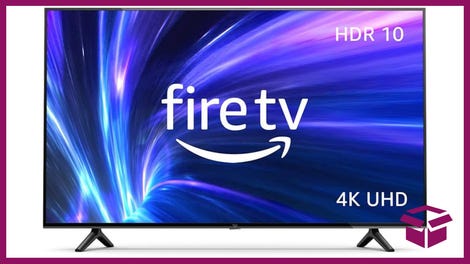 42% Off
Amazon Fire TV 50" 4K Smart TV
[NYTimes, Telegraph]
---
Lena Dunham scored another cover of the new i-D. [i-D]
---
Karlie Kloss and Momofuku Milk Bar have added a second kind of cookie to their Karlie's Kookies line — the 5 Boro Kookie, available in tins of 6 for $22, proceeds from which will provide five meals to New York residents affected by Hurricane Sandy. [Momofuku]
---
Rumors started swirling last week that the young British designer Christopher Kane would be taking over at Balenciaga in the wake of Nicolas Ghesquière's sudden departure. Some sources in Paris even said Kane had already signed a contract. This weekend, Kane issued a pro-forma denial. But one major apparent obstacle to Kane taking such a job has just been cleared: his ties to Versace, where he has served as co-creative director of the Versus line (with Donatella Versace) for some six seasons. "By mutual agreement," as Women's Wear Daily puts it, Kane and the company have decided to separate. Versace says the change had been under consideration since the summer. [WWD]

Meanwhile, the Kane —> Balenciaga rumor has been reported by, among others, the Nouvel Observateur and Fashionista. [NouvelObs, Fashionista]

Kate Moss speaks with her former booker and longtime friend Jess Hallett about her career so far on the occasion of the publication of a new book of photographs of the supermodel. Notable topics of discussion: how Vanessa Paradis was originally asked to be in the Calvin Klein campaign that became so iconic, how Moss hated being pressured to take photos topless as a teenager, and why she doesn't mind wrinkles. This is how she came to have a tattoo by Lucian Freud, who painted her portrait in 2002:

"The portrait was nine months, seven days a week, from seven p.m. until two in the morning. I could not be one minute late. He was really powerful. You wanted to please him. But I wish I hadn't posed like that. It's just the first thing I did — I fell on the side of the sofa and he said, 'That's fine,' and started painting. It's not like modelling, where you can change it. I had a dead arm. Did you know I got tattooed by Lucian? He did it with an etching pen. It's a flock of birds. One night he said to me, 'I used to do tattoos in the navy, on the ship, I used to do all the sailors' tattoos.' And I said, 'Oh my God, that's amazing!' So he said, 'Would you like one?'"

The tattoo in question is on her ass. [Telegraph]

Cameron Diaz says she enjoys posing nude because she is, you know, a grown-up. "I'm not some young girl with the photographer going, 'Will you take your clothes off?' I'm like [mimes stripping], 'How does this look?' They're like, 'Today we're not going to put anything other than bras and heels on you,' and I'm like, 'These heels are not high enough.' I'm a woman, I know how to handle myself. I know what I feel comfortable doing and I know my sexuality." She adds, "I think every woman does want to be objectified. There's a little part of you at all times that hopes to be somewhat objectified, and I think its healthy." [Evening Standard]

Christian Louboutin speaks out on the outcome of his trademark-infringement lawsuit against Yves Saint Laurent, a subsidiary of the French luxury conglomerate PPR:

"I'm very happy with what happened, that the American [courts] recognized it was a valid trademark. It is a trademark, period. I felt a bit weird and quite betrayed and offended by the behavior of a group that has a lot of luxury brands. They should know what is luxury and actually protect that because they live out of luxury. Because it was a big group they were thinking I would not stand up for my identity and trademark, which proved they didn't know me that well. It was weird for me that they wouldn't see it as a double standard. I own a color in a very specific place on a very special object. With Gucci, they own the red-and-green stripe. How can they own that trademark and tell someone they can't own a color?"

[FN]

Update on SlapGate 2012: WWD's Bridget Foley just used her fashion column to call Jennifer Eymere "a moron." Slaps fired. [WWD]

The founder of Bumble and Bumble has been remanded to jail pending trial for allegedly failing to pay taxes on some $29.6 million worth of income derived from the 2006 sale of the company. Michael Gordon apparently told the IRS that he didn't know he had to pay taxes on the sale. [NYPost]

Chris Burch has announced that two brands he has under development — Electric Love Army and Number 9 Christopher — will not be launching next year, but in 2014 at the soonest. An unknown number of employees were laid off. Burch's latest venture, C. Wonder, is in full-scale expansion mode even as Burch and his ex-wife and former business partner, Tory Burch, are embroiled in litigation. Chris Burch still owns a large share of the Tory Burch company but has been blocked from selling his holdings. [WWD]

A new study from researchers at York University and the Pontifical Catholic University of Chile examines why, even as plus-size visibility is increasing in the fashion media (largely thanks to plus-sized fashion bloggers), plus-sized women remain such an under-served segment of the apparel retail market. Many stores that launch plus-sized collections do not give them the money and support necessary to insure their success in the marketplace. And many retailers still mistakenly believe that plus-size women don't want more fashionable clothing options — or they just dislike plus-size people and don't want their brands to be associated with them. [Buzzfeed Shift]

Joseph Abboud has resigned from the troubled men's wear company HMX, which operates the labels Hart Schaffner Marx and Hickey Freeman, but at least 10 bidders are still seeking to acquire the bankrupt clothier. [WWD]

An important update on how Mila Kunis is dressing for the cold weather:

"Mila is such a nice girl and extremely down-to-earth. Everyone on Ashton's team is happy for them. She is very laidback and low maintenance. Her favorite coat is from H&M and she doesn't take herself too seriously."

Her favorite coat is from H&M. [NDTV]

And now, a moment with Rei Kawakubo, the designer behind Comme des Garçons. Rei, what makes you happy?

"The more people that are afraid when they see new creation, the happier I am."

[WWD]