"Grannies Kick Up Their Heels in Gotta Dance!" squealed one review. And what is this documentary whose Linwood Dunn Theater premiere attracted such a gallery of golden girls? The story of the beloved seniors-only-hip-hop troupe that plays Nets halftime. Score!
You know how Johnny Depp said his dream role would be playing Carol Channing? Sometimes it's like, dude, get over it, you're never going to make people forget you're incredibly handsome, just stop trying to be quirky. But in that case, it made sense: she is awesome, also awesomely idiosyncratic.



Young Michaela Carrozzo could benefit from the timeless words of one of our commenters, who declared that when you can't describe a getup in a single sentence, it's generally a red flag.



G/O Media may get a commission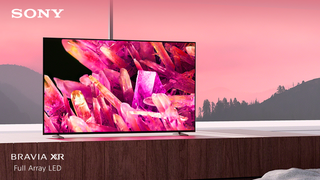 $400 off
Sony 55 Inch 4K Ultra HD TV X90K Series
I love knit dresses, like Ashley Sousa's: easy, packable, but hard to find - good ones, that is. And what's cheaper and less flattering than a knit dress? The answer starts with "no" and ends with "thing."



Dori Berinstein (R) is the documentary's director, so if she wants to say, "Hell, I'll wear a tee shirt," she can and she will.



So maybe the "big belt" trend is over, but Romi Danes is absolutely right: if you've got a retro-dramatic waist, it should be eternal, like Rome. Because Rome is the eternal city, you see. Just like Paris is the "city of lights" and New York is "the city that never sleeps" and Baltimore is "the greatest city in the world."



I made a gentleman's bet with myself that either Lorielle New or Kat Kramer would be here. I won, but I'd have won a sweet roll if they'd both been there.



I think dressing all in white, like Dee Wallace, is kinda ballsy. Not for reasons of dirt, but because it evokes Vestal Virgins and Druid funeral rites and is kind of subversively creepy. Well, to me.



I would consider my event a success if I had a bona fide Hitchcock Blonde there! (I'm not thinking of Marni. I try not to.) Tippi Hedren is certainly very...glam. I love it.


Getty" />