If you're anything like us, then you've also been counting down the days until the premiere of TV's latest trashfest Gossip Girl. In case you are still pretending that you are too smart to know what this is, it's The O.C. revisited: New York prep schoolers with more money than we'll ever have, having more sex than... Well, you get the point. And apparently it's kinda good. A critical roundup, after the jump.
If J.D. Salinger and Jackie Collins had a love child, she would be writing for 'Gossip Girl.' And although the [books on which the series is based] may not have quite captured the lush, almost fetishized fascination of prep school youth seen in 'The Catcher in the Rye,' the television version does...'A Separate Peace' on pheromones for the Information Age, 'Gossip Girl' is eye candy, and mind candy, as pretty as a perfectly prepared martini — one that some nasty, picture-perfect have-it-all may or may not have drugged. Just for the occasion.
It seems preposterous even to type the following sentence: The television version of 'Gossip Girl' on CW tonight does not quite live up to the novels... CW specializes in young-adult television, and certain public-trust habits are hard to break, like enriching spoiled, bratty characters with poignant back stories to make them more sympathetic...That 'Gossip Girl' novels have no underlying moral lesson is exactly the point; the tale of Hansel and Gretel has no redeeming social message either, except perhaps to beware of candy.
G/O Media may get a commission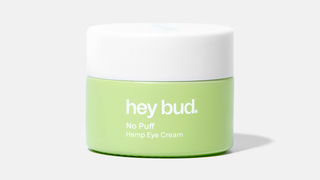 15% off
Hey Bud - No Puff Hemp Eye Cream
All fantasies are not for all people. Take 'Gossip Girl', a praiseworthy example of one of TV's more derided genres: the teen soap....[The show] knows who it's trying to please and what it takes to please them... As is common with teen soaps, the behavior is often more believable than the dialogue and the attitudes. But soap fans will likely be pleasantly surprised by how much 'Gossip' gets right...
[I]n the CW's delicious new drama series 'Gossip Girl'... Josh Schwartz, who served up the canceled 'O.C.', carries on the legacy of that West Coast soap opera and perhaps turns it up a notch with both drama and sheer teen-soapy goodness... At times, it's overboard and maybe a bit giggle-inducing, like watching little kids play dress-up. But overboard is exactly where 'Gossip Girl' wants to be — and what viewers must embrace when taking the guilty plunge.
The CW's 'Gossip Girl' makes 'The O.C.', which debuted in 2003, look like innocent nostalgia... Ah, life was so simple back then....In the parallel world of celebrity, [the characters of 'Gossip Girl'] are Paris Hiltons... And, Lord help me, I loved spending an hour hating them, their pedigrees, and their unlimited credit cards. It was like studying the peculiar mating rituals and shopping habits of the species Manhattanus Elitus.
Why is 'Gossip Girl' so depressing? [The show] has many of the makings of an escapist soap: rich kids, a snooty private school, a Manhattan setting and lots of melodrama at swanky parties... Yet the first episode of 'Gossip Girl' is strangely deflating. This show posits that teens... live in an environment so competitive that the most ravenous shark might feel a twinge of pity for them. Their parents are unsympathetic and self-absorbed; their friendships exist solely as a means of establishing or reinforcing the pecking order; even the sex on the show — and there's a good amount of sex or near-sex — is either sadly mechanical or imbued with more than a hint of nasty violence.