Can you think of a better combination for fun than these two? As if we weren't excited enough for Anna Sui's GG-inspired Target collection, last night's event at the New York pop-up store has us on pins and needles!
Actress Lynn Collins would like us to know that she is a fan of Joy Division's Unknown Pleasures. I'm skeptical.



I guess the 5-year-old in Heather Tom couldn't resist these shoes.



G/O Media may get a commission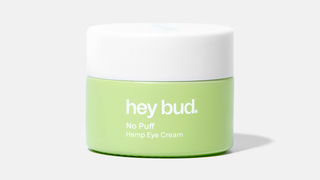 15% off
Hey Bud - No Puff Hemp Eye Cream
Kelly Bensimon's outfit is only acceptable for the beach. And with a bathing suit underneath.



Blake Lively can pull off just about anything, but this layered bandage is not the most flattering thing in her capacious closet.



Emma Stone does classic Anna Sui punk-babydoll. Can't beat it.



Michelle Trachtenberg's getup is objectively cute, but there's something about it I'm not loving...and no, it's not the purple, I swear!



June Ambrose has a lot going on - but pulls it off with sheer attitude.



I know Jessica Szohr is the resident hipster, and I know early 90's is the thing, but on a visceral, not intellectual level, I'm not loving.



Like I said, Sessilee Lopez: can we get this early-90s nostalgia over with fast?



Is Monet Mazur channeling a whole lotta Grey Gardens? Yes. But who said that was a bad thing?



My question to Sarah Bradford: is this dress from the collection? Cause it sorta looks like it is. I don't mean that as an insult. I don't think.



I love Joanna Garcia, and I can even get behind this shark tooth-confetti situation. But the dainty shoes take it over the edge into peculiar.



Taylor Momsen: we get it. You're "edgy." You probably curl your lip at Lynn Collins' Joy Division shirt. That was so last year for you.



Anna Sui does Anna Sui.


Getty" />