After three and a half years at Jezebel, this is my final post. In that time, I wrote 5,990 posts, falling just 10 short of winning a kayak. My departure is bittersweet. On the one hand, I'm excited to stop living like a vampire, waking up to emails detailing how wrong I am about absolutely everything (Note to self: Peanuts are not nuts, and I've been way too hard on Beyoncé), and spending a significant chunk of the day thinking about how the world dumps on the womenfolk. On the other hand, Jezebel has taken me from being a grad student nervous to share her thoughts with thousands of people to an editor who posts 12 times a day on a site read by millions. It's hard to think of another place where I'd be given the freedom to say (pretty much) whatever I want, and the next time I see a women's magazine explaining how to take a shower, or a Republican presidential candidate explaining why the rights of people with no organs matter more than those with ovaries, I'm sure I'll miss being able to share it with Jezebel readers.
I clicked a link to the new "girly Gawker" on the very first day of its existence, and it's amazing to see what Jezebel has become in that time. I remember surreptitiously refreshing Jezebel every few minutes, waiting for Midweek Madness to go up while interning at a certain lady mag. I was so excited to find a site that raised the discourse on women's issues while making room for more trivial topics too. It seemed like a long shot, but I hoped that someday I'd be able to work there. A few months later, I was. As I've discussed, going to Wellesley College brought out the feminist in me, and I love that Jezebel brings the experience of sharing ideas with funny, intelligent, and opinionated women to a wider audience (without being trapped in the woods with no boys and forced to love Ani DiFranco).
I've learned something from every one of the amazing women who have graced Jezebel's masthead. In particular, I'd like thank Anna Holmes for hiring me as an intern based on a snarky email and a phone interview that took place while I was watching the first Sex and the City movie. (To this day, no one has asked to see a résumé. Lesson learned: Earning diplomas is overrated.) Also Jessica Coen, who promoted me to night editor and pushed me to be a better lady blogger than I thought I could be. And finally, I have to thank Dodai Stewart for making me look forward to trekking into work on Wednesdays to sift through tabloids, and sharing some of the most fun moments I've had at any job. I'm tremendously proud to have been a part of Jezebel, and I can't wait to see where the site goes in the future.
As for me, I have some pretty exciting projects in the works. Well, actually for the next few weeks I'll be watching an incredible amount of Star Trek: The Next Generation with my fiancé and learning exactly why Kate Middleton needed to stop working four months before her wedding. However, I'm sure the allure of indulging in extreme laziness won't last for long, and I'll update you on my future plans here.
G/O Media may get a commission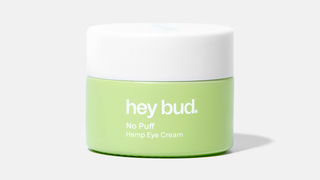 15% off
Hey Bud - No Puff Hemp Eye Cream
So, that's it folks.
Much like Brad Pitt, I'm hopping on my motorcycle and storming off into the sunset (well, metaphorically). But rest assured that no matter what In Touch says, I'll always love you — even if I run off with another lady and have a fuckton of babies.