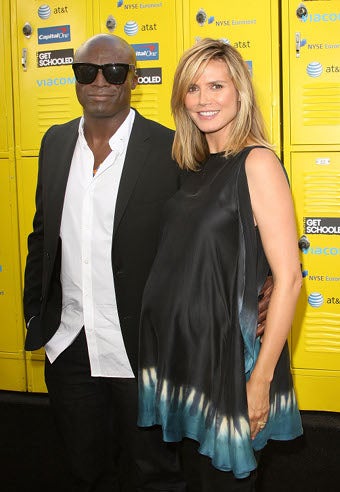 The Bill & Melinda Gates Foundation & Viacom's "Get Schooled" Initiative launch at L.A.'s Paramount Studios brought out Heidi and Seal, Malin and Morgan, and, I'll just say it, the worst pair of shoes I've ever seen .
I don't know how a heavily pregnant Heidi can stand in these heels...one hopes at least that she doesn't have a good view of the unfortunate tie-dyed border.



Rhyon Brown's dress looks like rainbow sherbet, except with...coffee, instead of lime. You decide whether this is a good thing.



Olivia Munn proves that a sack with a zipper down the front is still a sack.



Kim Coles is wise to break up this bamboo grove with a belt...but it's a little uncanny how exactly the belt matches her hair.



I get that the whole little-tramp menswear thing is back, but seriously, couldn't Maria Menounos has hemmed her trousers like 1/2" shorter?



I like to think that Malin Akerman pulled this out of the closet on laundry day at the last second and still kind of makes it work.



Monica has the look of a woman whose pants are cutting off her circulation.



So does Lauren 'Lo' Bosworth. And her very loud jacket only distracts momentarily.



I have a really hard time not seeing Miranda Cosgrove as the brat from School of Rock - even though I know she's a tween star in her own right, who wears rather adult one-shouldered cocktail frocks.



Elisabeth Shue sports an LBD - longish black dress - and a very frumpy pair of Easy Spirit-ish shoes.



Cheryl Hines has found it: the most hideously unflattering pair of shoes in all the land.



Morgan Freeman: Fagin called. He wants his gloves back.



I like Tichina Arnold's daughter's version of the mother-daughter ensemble better - but in combination, they're pretty cute.


Getty" />