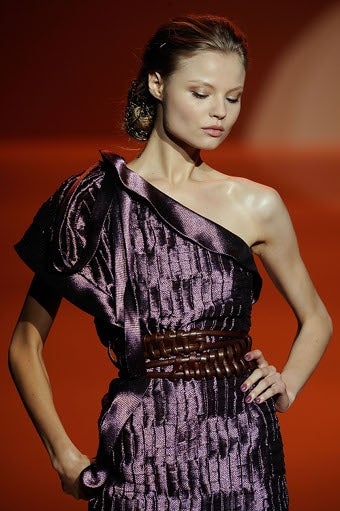 Carolina Herrera does ladylike and luxe like no one else - and texture and rich fabrics didn't let us forget that this is one grande dame who knows what grandes dames like!
Texture provides interest, but the look is classic enough for the Met's opening night.



Luncheon-perfect! (If reminiscent of a chenille spread.)



These kicky power separates swing a tad too-too - but I can just see an art-world eccentric in aggressive glasses snapping it up!



And speaking of the Reagan era! An Ivana special in an Ivanka-era shade.



The jumpsuit goes uptown; the results are Billy-Joel-worthy.



Classic - but just so garden-party-pretty in this jazzy mid-century print.



There was a lot of texture play at the show: this copper number's lines are probably flattering, always a good thing.



For the Bourgeois-Bohemian who finds Tory Burch too "downtown."



Will we still be seeing Mad Men come spring? Looks like it!



Classic Barbie-perfect Herrera.


[Images via Getty]