Last night's Golden Globe Awards garnered some minor surprises (Julie Christie for best actress, drama; Julian Schnabel for director); some major snoozes (the exceedingly-painful televised press conference made us want to do all sort of tortuous things to Billy Bush, especially when he called Cate Blanchett not such a great actress); and some boring fashion (see above). To amuse ourselves (and, as promised on Friday), we took the female Globes winners and outfitted them in the fashions we think they should have worn, had the show gone on as usual. The winners and their pretend awards-wear, after the jump.


Julie Christie - Best Actress in a Motion Picture, Drama (Away From Her)


English acting legend Julie Christie is a little bit quirky and a whole lotta classy. Which is why I thought the 66-year old actress would be perfectly suited in this Louis Vuitton dress — pinstripes paired with the coy purple sheath shows that there is sexy after 50, and Christie's face would be perfectly picture-framed in that portrait collar.


Marion Cotillard - Best Actress in a Motion Picture, Comedy or Musical (La Vie En Rose)

G/O Media may get a commission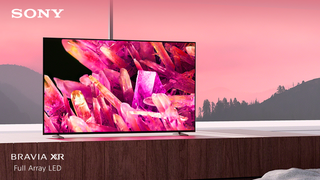 $400 off
Sony 55 Inch 4K Ultra HD TV X90K Series

French actress Marion Cotillard won big last night for her star-making turn as legende Francaise, Edith Piaf, the chanteuse whose heart-breaking songs weren't half as heartbreaking as her own life story. And shouldn't a performer/role that scream Vive La France! be paired with one of the country's most iconographic fashion houses, Chanel? This Karl Lagerfeld for Chanel-designed dress looks as if it were custom-made for Cotillard's moon face and full lips, the marriage of sexuality and innocence. Also, how cool are the nautical-esque rope details?


Cate Blanchett - Best Supporting Actress in a Motion Picture (I'm Not There)


I'm a little tired of seeing Cate Blanchett in Armani. Also, I imagine that Cate is a little tired herself, but not of Armani — just 'cause she now has an achin' pregnant woman's body. So I thought comfort should come first, which is easy enough in this Lanvin number, which, like Cate, seems simple but boasts an alluring complexity. (Also, I'm mad for orange!) Cate's a great beauty: She deserves to wear a dress that can match her, but allow her to shine.


Glenn Close - Best Lead Actress in a Television, Drama (Damages)


So Glenn Close gets the honors with this sexy yet sophisticated frock by Armani. She's 60-years and and still got a slammin' bod and she's damn proud of it. So why not show off a still toned chest in a diaphanous choice like this one? The shawl keeps it modest enough. Sorta. Kind of. And the cute and fabric will soften Close's appearance, which can sometimes veer towards the severe. Also, I'm all about white for formal wear. (And all against white for bridal wear. Ah, irony.)


Tina Fey - Lead Actress in a Television Comedy (30 Rock)


The idol of geek girls everywhere, I want to see Tina Fey in a dress that represents her wit and sophistication, without denying the fact that geek girls are never gonna compromise comfort for style. Also, geeks can be beauties too! Smarts, comfort, beauty? That's exactly what this strapless black gown by Israeli designer Sari Gueron offers. The attention to detail and flawless execution is like the sartorial equivalent to the perfect timing played out week after week on 30 Rock. (Or, um, whatever.) It's a dress that just screams, "Live every week like shark week."


Queen Latifah - Best Actress in a Television Miniseries Or Special (Life Support)


A longtime fan of butch suits and matronly gowns, Queen Latifah could have cut a shapely silhouette in this Catherine Malandrino ensemble. Malandrino, a designer with a bold color palette who understands that real women have curves, would be perfectly suited to Queen Latifah's personality. These wide-legged white trousers require a woman unafraid to be assertive and the delicate top, emblazoned with a faux flower, require a woman who also enjoys her feminine side.


Samantha Morton - Best Supporting Actress in a Television Show or Miniseries (Longford)


Samantha Morton is kooky, quirky, and quite the chameleon. Yet her acting work is undoubtedly some of the smartest and most complicated being done today. Which is why her fashion soul mate should be John Galliano. High drama + flawless execution + a guaranteed pinch of the unexpected = Perfect Morton-wear. This ruffled frock is sexy, not girly; fierce, not fainting. Also, have I mentioned lately how much I love orange? Morton would rock this like the oddball sexpot that she is.