A church in Wilkes-Barre, PA is putting some sex positive words in God's mouth. The Restored Church recently paid for a billboard along Route 309 emblazoned with the words: "'I love sex.' -God." Oh God, doesn't everyone?
This message from God is being used to promote a new sermon series the church is hosting that focuses on the Song of Solomon. Pastor Dan Nichols of the Restored Church told the Huffington Post, " What we want to do is let people know that the Bible is relevant to everyday life. When it comes to sexuality... God is the the inventor, author and creator of it."
Kinda hard to argue with that. As with many questionable decisions these days, the goal of the cheeky billboard is to target millennials.
Although he said the church's overarching message emphasizes sex between a husband and wife, one of the sermons will address sex in single life which might be more pertinent to a younger audience. Overall, Nichols told HuffPost he believes the topic will resonate with all.

"We want to reach college kids, but the message is multi-generational," Nichols said
Naturally other Christians are totally cool with God promoting sexy sex. Just kidding—they hate it. "We've gotten a lot of flack from other Christians," Nichols said.
I'm moderately familiar with the Bible, so am I also allowed to advertise things I believe God would say? Off the top of my head, I would start with: "'If that sex leads to a baby, evaluate your options and please make the choice that's best for you.' -God." I would also like to consider: "'Stop shooting unarmed black people.' -God."
G/O Media may get a commission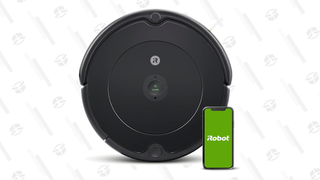 35% Off Black Friday Deal
iRobot Roomba 694 Robot Vacuum
Let me know when God approves that copy.
Image via WNEP 16