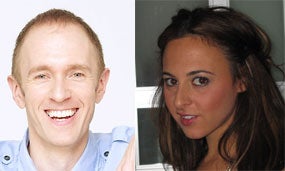 We're not sure what's wrong with Alyssa Shelasky's love life since she stopped actually writing about it, but the editors of Glamour sure seem to have some ideas! Last week, Glamour enlisted Alyssa to present the three leading guy candidates to replace longtime dating columnist "Jake" to present them with a challenge that would offer readers a window into the respective prospective Jakes', uh... problem solving skills? Understanding of the Human Condition? Whatev.
Their responses to Alyssa's question, "Why can't I find love when I am clearly so adorable as evidenced by the 397 pictures of myself I have posted on the Glamour website", were mostly pretty boring since as Neel pointed out, they don't actually read Alyssa's blog. But when Alyssa took umbrage-lite at Jake wannabe Adam Stein's response, Adam dug up his rough draft and found that his answer had been planted with a SUBLIMINAL (figuratively) MESSAGE by... well, he could only suspect "Glamour Editorial Sprites"!
I don't think I was hard on you at all, unless you're referring to this: "Seems to me you've been looking in all the wrong places. Celeb-infested galas, crowded book signings and publicist-heavy cocktail parties tend to be crowded with the types you know you should avoid." In which case I should tell you...I didn't write that. Sometimes I compose a draft of a blog, and then it comes out posted with mysterious additions. Glamour Editorial Sprites, no doubt, making mischief.
Mischief! That's one word! Sprites. Yet another! But wait! We think we're stating to make out a hidden message within the hidden message...


This...vapid ho gets... three thousand dollars a month....for this shit????


Yeah, don't ask who told us that. "Sprites." Ha. Kisses!

Alyssacentric [Glamour]