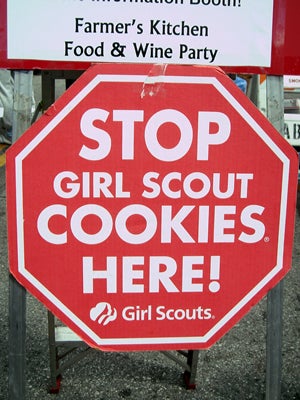 We were never involved in Girl Scouts as kids — we were in the less-publicized, bastard-stepsister type Camp Fire Girls organization — but we've always been happy to partake in the association's annual cookie sale (Tag-A-Longs are our fave) and gain 5 pounds while simultaneously helping millions of energetic, curious young Brownies and Girl Scouts go to camp and work well with other girls.
My, how they've grown. According to an article in today's Times, Girl Scouts have embraced the 21st century in a big way: Instead of their cookies helping to create and maintain summer camps, the delicious morsels are teaching young girls all about being businesswomen.
Take Sarah Cain, 16, who styled herself into quite the teenage entrepreneur last year when she approached car dealerships in her hometown of Arlington, WA and convinced sales managers to buy her cookies for prospective, test-driving customers. Now she's thinking even bigger:
For this cookie-selling season...Ms. Cain has prepared a Power Point presentation and is aiming at hotels — she is already lining up appointments — hoping to persuade them that every room needs a box of familiar cookie comfort.
A Power Point presentation? We love it. Do you? Show your love by buying some Girl Scout cookies this month (don't know of a nearby troop? Go to www.girlscoutcookies.org to find out).
Girl Scout Cookies In Bulk [NY Times]