In the aftermath of Benazir Bhutto's untimely demise, several strange articles about her life and legacy have appeared. The most bizarre is the one written by her apparent confidante, TV journalist Daphne Barak (shown at left with Bhutto) in Britain's Daily Mail newspaper. The piece, which was ostensibly meant as a way to show the "real" or "private" Bhutto, ends up painting her as a tiger-owning, fad-diet loving, Victoria's Secret-clad gal who sort of dabbled in international politics on the side. "I helped her with her hair, too," Daphne writes. "My hairdresser, Diego, who works for the Regency Hotel in New York, would style her hair when she came to some of my parties. When she was in exile, I introduced her to influential people and she wanted to look her best."


I have no problem with humanizing larger than life figures — the microwave-sized biographies of LBJ by Robert Caro do a great job of mixing personal stories with political ones — but if Daphne was as close to Bhutto as she claims she was, weren't there more illuminating anecdotes about Benazir's character that she could have included? The fact that Bhutto loved Victoria's Secret because they were "sexy stylish" and had a great "range" doesn't show the essence of a complicated woman very much at all.
A second, much more appropriate article in the American Prospect, "Benazir Bhutto: An Imperfect Feminist", argues that while Bhutto might not have acted enough on behalf of Pakistani women in her capacity as an elected leader, her symbolic presence as a powerful Muslim woman is perhaps more meaningful. Despite Bhutto's support of the women-defiling Taliban in Afghanistan, Stan says Bhutto "was a potent symbol of [South Asian women's] potential empowerment. Symbolism was what Bhutto did best, and symbols matter — especially to the desperate."
Which is why Daphne Barak's article is even more upsetting: symbols do matter, and if the message she is sending is that world's female leaders should be wearing lacy underthings beneath their power suits, we might as well send Hillary back to the kitchen to make some fucking chocolate chip cookies, shouldn't we?
G/O Media may get a commission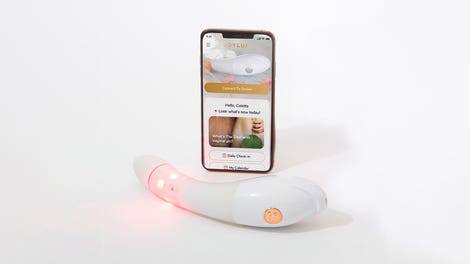 $50 Off
Joylux vFit Gold Device
How Benazir Let Her Hair Down [The Daily Mail]
Benazir Bhutto: An Imperfect Feminist [The American Prospect]
Earlier: Musharraf On Bhutto: "I May Be A Dictator, But She Was Like An African Dictator..."
Benazir Bhutto: Beloved, But Sort Of In That "Marion Barry" Type Way
Benazir Bhutto Dies After Being Struck By Bomb, Shot In The Neck At Rally