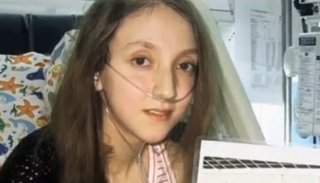 A 14-year old Chilean girl who suffers from cystic fibrosis and who'd sought public approval to end her life has changed her mind, reports AP Online.
Via Yahoo!:
Fredy Maureira told The Associated Press on Sunday that his 14-year-old, daughter, Valentina, has changed her mind after meeting people who responded to her plea to be euthanized in order to end her suffering from cystic fibrosis.

A video in which Maureira asked Chilean President Michelle Bachelet to allow her to be euthanized gained global attention last month after it was posted on YouTube. Bachelet, who is a trained pediatrician, visited the girl and her family but the government said it could not approve her request.

Fredy Maureira said his daughter especially was moved by a visit from an Argentine family whose children have been stricken by the incurable respiratory illness. He said she also was given hope by meeting a patient who has survived beyond age 20.
Cystic fibrosis is a debilitating, incurable disease that affect the respiratory and digestive systems; the average age length for a person affected by the disease is just 37.
Screengrab courtesy Wochit