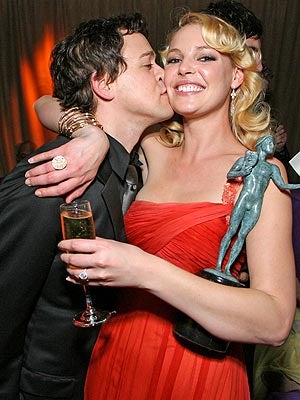 Once, we were worried that Katherine Heigl. We were worried she would turn out to be the sad, selling-her-sexuality type of former child star exhibited by the likes Dominique Swain and Michelle Tractenberg. You know, the girl who decides (or whose minders decide) that the way for casting agents and directors to take her "seriously" as an adult actress is to sex it up. (See also: Chabert, Lacey).
We had other reasons for concern. For one there was the cinematic stinker, My Father, The Hero, filmed when Katherine was just 14 years old; in that film, Katherine played a young teen prancing around in a bikini and pretending that her dad (played by Gerard Depardieu) was her lover in order to impress a potential boyfriend. The film was YUCK on many levels, not the least of which is that Katherine's mom (or dad, or both) actually let her take such a role.

Anyway, Katherine is all grown up now, and starring on Grey's Anatomy. We don't watch the show that often — not because it's not good; but we've got lots of old episodes of Oprah and Tyra to slog through for you guys — so we can't speak critically about Katherine's portrayal of Izzie, one of the young, harried, crazy residents at some Seattle hospital. But here's what we do know and love:
Katherine speaks her mind. When Isaiah Washington called her BFF castmate T.R. Knight a "fag" in public, then apologized but did it again, she called him out for it. And in royal fashion.
Katherine's BFF is a gay man. We love f-ghags.
Katherine has an adoring, ad-or-a-ble fiance, Josh Kelley, whom she seems to be dating because she genuinely adores him, not because he's famous too and can bring her publicity or attract the attention of the paparazzi.
Katherine loves animals. She's got four dogs!
Katherine looks amazing in clothing, and she's far from your standard Tinseltown anorexic.
Katherine killed it during her first appearance on David Letterman last month. She was gracious, funny, self-deprecating, and won over Dave within a matter of seconds. Oh, and she demonstrated that she has a great laugh.
Lastly, we love Katherine because she stands up not only for her friends, but herself. Witness her most recent commentary on the well-publicized salary negotiations regarding her work on Grey's:
"I am embarrassed that this has become a public matter and disappointed that Touchstone felt it necessary to divulge private employment information. I had hoped I would be able to deal with this issue confidentially with my bosses. I dropped out of the renegotiation simply because I wanted to treat myself with the respect I was not getting from them. No matter how unhappy I am about their decision to respond to this publicly, I continue to be passionate about and committed to this character."
Love it. Love her!