For the first seven months of her recovery, Rep. Gabrielle Giffords was told little about the shooting that left six people dead and 13 people, including herself, injured. Those close to her feared that the trauma of learning the details of what happened would stunt her recovery, and that she'd be unable to process the information. It's now been revealed that sometime in late July, she found out that her aide Gabe Zimmerman, friend U.S. District Judge John Roll, and 9-year-old supporter Christina-Taylor Green were among those killed that day.
According to the The Arizona Republic, Giffords was filled in prior to her stunning appearance on the House floor on August 1. C.J. Karamargin, her congressional spokesman, says, "She was deeply saddened by it."
After returning from D.C. to continue her rehabilitation in Houston, Giffords and her husband Mark Kelly called Ross Zimmerman, the father of her aide Gabe. Zimmerman said:
"It wasn't very long, but it covered important things. She said she felt awful about Gabe. When Mark commented that she thought of him [Gabe] as her little brother, she said 'yes' very emphatically."
G/O Media may get a commission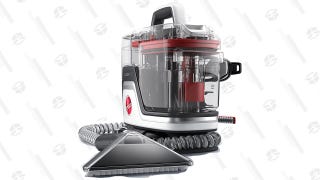 Save $10
Hoover CleanSlate Plus Carpet & Upholstery Cleaner
While now we've all seen Giffords' incredible progress for ourselves, Zimmerman offered a few new details about her ability to communicate, and the difficulties she's facing:
"She still has some trouble with language, but there is no question that she can get her point across and her comprehension is 100 percent ... It was Gabrielle - it was nice to talk to her ... When she gets excited or stressed, it's harder for her to put words together in sentences ... That's the thing that she has the most trouble with. She's having to relearn language, and that's tough. She's having to learn how to write with her left hand at this point. And now, she's having to start the grieving process that the rest of us started back in January."
Giffords Is Now Aware Of Who Died In Massacre [Arizona Republic]
Earlier: Gabrielle Giffords Returns To House Floor To Vote On Debt Ceiling