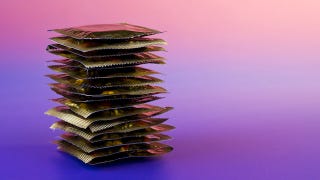 Want to buy condoms? Want to contribute to sexual health in the developing world? Now you can do both!
That's the mission of Sir Richard's Condom Company, which offers a new subscriptions service whereby customers can get condoms delivered to their homes, at a regular frequency determined by their rate of boning. Also, whenever you buy a Sir Richard's condom, the company donates one to a developing country. Their first donation project is about to launch in Haiti, in concert with Partners in Health.
Getting condoms delivered automatically seems like a great way to keep from running out unexpectedly, which is never a good thing. And helping other people have safer sex makes this an even better idea. The only downside we can see is that a box of condoms is sure to arrive on your doorstep right after a breakup, drawing cruel attention to the fact that no one will ever want to have sex with you again, ever. Of course, after a good cry you can just use the condoms to make balloons with your ex's face drawn on them, then pop them while laughing maniacally. Win win.
Sir Richard's Condom Company Subscription Service [Official Site]
Image via any_keen/Shutterstock.com