According to a newly released poll from Gallup, men feel better about their looks than women feel about theirs at almost every age, minorities generally feel better about how they look than white people and middle-aged people feel the worst about how they look. Well!
After interviewing over 80,000 Americans 18 and older, Gallup found that Americans over the age of 64 and Americans under the age of 35 both felt roughly the same about their bodies:
Though many may pine for the physical appearance they had in their younger years, America's seniors are the most confident in their looks. Two-thirds (66%) of Americans aged 65 and older "agreed" or "strongly agreed" that they always feel good about their physical appearance, compared with 61% of 18- to 34-year-olds. Middle-aged Americans (54%) are the least likely to report feeling good about their appearance.
These results as they pertain to middle-age, however, appear to be skewed by white respondents: Gallup notes that "only whites' confidence in their appearance drops sharply in middle age. Blacks, Asians, and Hispanics all maintain their positive perspective on their physical appearance through middle age, and then become even more confident in their golden years."
G/O Media may get a commission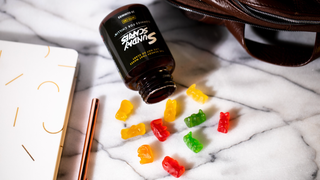 10mg CBD Gummies (22-Count)
The researchers would only speculate as to why feelings about physical attractiveness might differ over time and among different ethnic and racial categories. They also noted that they didn't measure "the actual physical attractiveness of the respondents." Yes, that would have gone well.
Images via Vittorio Zunino Celotto/Getty and Gallup