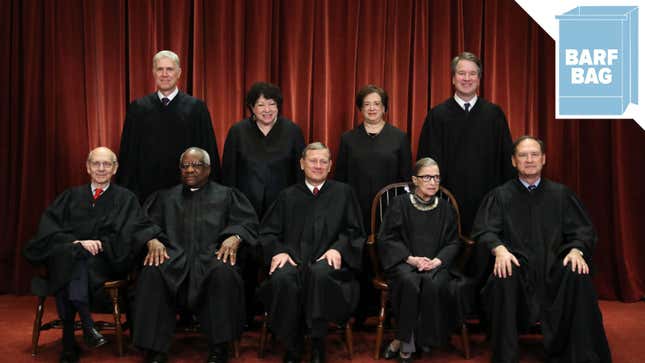 Somehow, I am still alive. Will I still be alive after drinking a gallon of Diet Dr. Pepper during tonight's second DNC debate?

Taylor Lautner Doesn't Even Remember Saying 'Bella! Where the Hell Have You Been Loca?'
Here's all the shit we couldn't cover today:
In a 5-4 ruling, the Supreme Court decided that federal judges can't hear challenges to partisan gerrymandering, because, in the words of Chief Justice John Roberts, "partisan gerrymandering claims present political questions beyond the reach of the federal courts." This ruling "effectively reverses the outcome of rulings in Maryland, Michigan, North Carolina and Ohio, where courts had ordered new maps drawn, and ends proceedings in Wisconsin, where a retrial was supposed to take place this summer after the Supreme Court last year threw out a decision on procedural grounds." In the dissent, Justice Elena Kagan wrote, "For the first time ever, this court refuses to remedy a constitutional violation because it thinks the task beyond judicial capabilities." This is very bad!!! [Associated Press]

In a better ruling, the Supreme Court ruled that the Commerce Department needs to provide a better rationale for adding a citizenship question to the 2020 Census, and kicked it back to the department, putting its addition in doubt. Good! [New York Times]

Jared Kushner, shadow Secretary of State. [Washington Post]
Speaking of bad people at the State Department, you know what I've always wanted to ask Henry Kissinger? His thoughts on the Olympics. Wish, granted. [Los Angeles Times]
As horrific conditions at facilities run or contracted by Customs and Border Protection and the Office of Refugee Resettlement as well as deaths along the border continue to raise outrage, House Democrats have spent the week debating whether or not to accept the Senate version of a $4.6 billion border funding meant ostensibly for humanitarian aid that lacked restrictions on how the money could be spent. But on Thursday, Speaker Nancy Pelosi capitulated, saying that the Senate bill would be "reluctantly" passed by the House. She reportedly agreed to the Senate version of the bill after Mike Pence gave her "private assurances that the administration would voluntarily abide by some of the restrictions and rules that she had sought," which, okay! Suuuuuuuurre. Sidenote: Chuck Schumer, what're you doing??? [New York Times/CNN]
More than 1,000 doctors, mostly in the United Kingdom, are calling for massive non-violent direct action to spur action on climate change. [The Guardian]
I ship this buddy comedy about a President and her VP!
Here are some tweets the president was allowed to publish:
This has been Barf Bag.