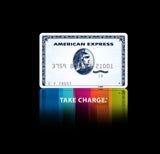 Want early access to some of the hottest concerts and events? When you add the Music Pack to your ZYNC from American ExpressSM Card, you get:
- 2X Membership Rewards® points on concert tickets through select merchants like Ticketmaster.
- Pre–sale access to select concert events through The Bowery Presents in NYC, Club Nokia in L.A., and
Nokia Theatre Times Square.
- The opportunity to purchase special VIP packages for some of the most popular music festivals.
- Exclusive access to artist interviews, backstage tours, sound checks, and more.
Not so much a rocker, but a shopper? Or a backpacker? The ZYNCSM Card offers a Pack for all your interests, whether you're into dining, traveling or even charitable causes. You choose how to spend your money and now you can choose how you're rewarded.
Start being rewarded for what you already love: Check out the ZYNC from American Express' Pack options here and get the full ZYNC Card experience on Facebook.
Pack Terms apply. Visit americanexpress.com/packterms for full details.