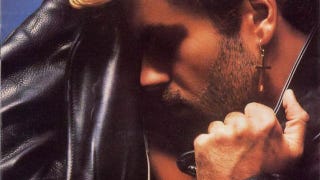 What do you give the couple who has everything? As a gift to Prince William and Kate Middleton, George Michael is recording a song. We don't know which tune, but the former Wham! singer says:
"Suffice to say it's a beautiful song and it was never a single so chances are u don't know it. But I think it's a perfect fit. It was written in the seventies by a genius. Tell you what, I'll give u a clue that will really narrow it down to that handful of great love songs of the pop era. The first word of the title is 'You.'"
Ok, let's guess! A genius in the '70s? Stevie Wonder? "You Are The Sunshine Of My Life"? Any other ideas? Burt Bacharach? Elton John?