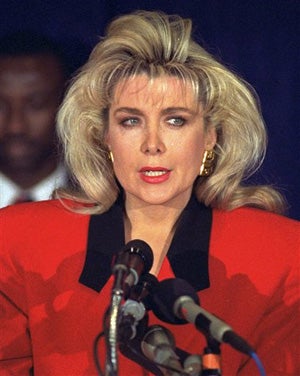 Gennifer Flowers, Bill Clinton ex-lover and the woman who once sued Hillary for defamation, says that, come election day, she'll be stuffing the ballot box for Ms. Clinton. "I can't help but want to support my own gender," Flowers tells a reporter from the AP. "[Hillary's] as experienced as any of the others." (Though maybe not as experienced in the sack as stripper lovin' John McCain. Zing!) As some will remember, Flowers came forward with her Clinton affair during Bill's 1992 presidential campaign, even taping several incriminating phone conversations with him that she then played for assorted members of the press. During the Paula Jones sexual harassment case, Clinton testified under oath that he had a "single sexual encounter" with Flowers.


Here's what's happened since: Flowers has had her eyes done, lips plumped, some lipo and just a touch of rhinoplasty. Oh, she also headlined a show called "Boobs: the Musical" and opened a supper club in pre-Katrina New Orleans. Flowers is currently living in Vegas and is part of a nascent plastic surgery reality show. She's also penning a column for Vegas Community Online, a website that also includes (presumably syndicated) contributions from Hillary herself.
Judging from her column, it's clear that Gennifer's commitment to fellow females extends beyond her desire to see Hillary in the White House. In her debut column from October, "The Secret Society of Undercover Button Pushers," Flowers warns women about men who pretend that they don't play games. "Ladies, stand up straight in your stiletto heals and lay down the law...button pushing will not be tolerated," she admonishes. Sage words from the feminist icon behind "Boobs: the Musical"!
Gennifer Flowers: I Could Vote For Hillary [CBS News]
The Secret Society of Undercover Button Pushers [Vegas Community Online]