Welcome to hell: today Pitchfork ran a review about the debut major label album by Wet, a Brooklyn band that some of us at Jezebel like and some of us don't, which is all very fine by the standards of human agency. Because music critics are called "music critics," the review, by Katherine St. Asaph, was somewhat critical; the essence of her thesis was that Wet is boring, and particularly boring for a band that trots out '90s R&B reference points as often as it does, that the end result neither meets the expectations nor the claims.
This is fine! It's completely fine! And, objectively speaking, none of the review was as incendiary as a quote in the last paragraph by singer Kelly Zutrau, which read: "[We're] now adults in a time when the music playing on Hot 97 is some of the most exciting music being made right now," and seemed to imply that Wet was listening to Hot 97 on a lark, or was using the long-running rap/R&B radio station as performative touchstone, or that Wet did not listen to Hot 97 during the time between their early '90s touchstones and the 2010s. Ultimately, it really doesn't matter, and likely won't beyond the longevity of this review, or their album. It's okay.

Enter Genius, the lyrics annotation website born as Rap Genius and which has in recent years sprawled its tentacles into every genre of music, journalism, poetry, and probably other categories we don't yet know about (and which has hired several employees I know, have worked with, and like very much). Sometime after Pitchfork posted its review, two editors at Genius reviewed Pitchfork's review via annotation, combatting some of the main points and references while essentially shilling for Wet along the way.
There is a clear difference between Pitchfork (where I wrote frequently, including a column, during the early-to-late 2000s) and Genius, both of which need varying degrees of artist participation to stay afloat at their current levels of prestige. Pitchfork needs artists to play its presumably lucrative, annual festivals in Chicago and Paris; Genius needs artists to come to its offices and annotate their own lyrics, giving the site a not-negligible amount of cachet. Only Pitchfork, though, purports to maintain a level of objectivity and critical distance, so in this quasi-feud between the two sites, the Genius annotation might as well be a Reddit thread.
G/O Media may get a commission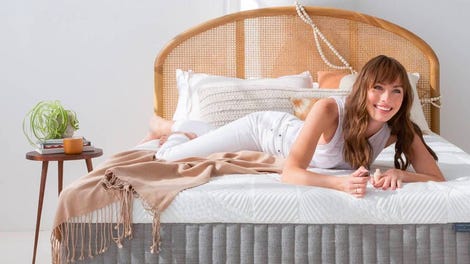 Sleep Sale
Sleep Sale - Brentwood Home
Except Reddit commenters don't have VC money to the tune of $40 million backing them, as Genius does—which might lead a skeptical, even conspiratorial-minded music critic to wonder, is Genius's next step to attempt to maim music criticism in the spirit of "democratizing" its content, positioning itself as a fan site as a land-grab by savvy Silicon Valley people? And even if a skeptical music critic didn't think that, what of the internet ouroboros that allowed this to even occur? And also, how did Katherine St. Asaph write this review without mentioning Dev Hynes? And also, have the Haim-loving Genius people who reviewed the review even heard a song by a member of the DeBarge family that wasn't "Rhythm of the Night"? And also, do you think I should go into the Jezebel bathroom and see how long I can breathe underwater in the office toilet? Yes? Me too! Excuse me while I do that!
---
Contact the author at julianne@jezebel.com.
Image via screenshot