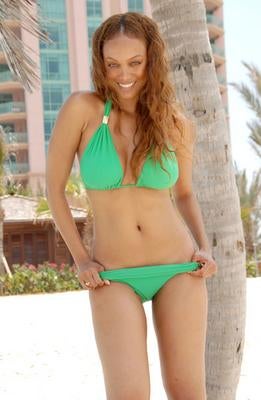 We didn't think we'd live to see the day that a celeb tabloid would go out of its way to play down talk of a celeb's weight fluctuation. But Life & Style does just that this week, backing up its trailblazing reputation with this analysis of Jessica Simpson:
Even if Jess has gained weight, she looks buff, not fat.
In other eating disorder-related news:

For the second week in a row, Star (p. 44) expresses its concern over celebrity obesity (last week it was Jessica!), this time honing in on what it terms Kelly Clarkson's "BIG" (printed in 300 point font!) problems. Says a source: "Kelly wants to get down to 125 pounds before her tour starts, but that's not going to happen when she's eating croissants for breakfast, burgers for lunch and fried chicken for dinner!" (But what about Alli?)
Judging from an incredibly candid (not!) photo snapped at the Cove in the Bahamas, Tyra Banks has, like, two inches between her thighs again! Professional weight estimators could not be reached by the time the magazines went to press, but since we know Tyra was 161 we are placing our bets on 152! US, (p. 18), L&S (p. 24)
According to Star (p. 54), Sandra Bullock is "scary skinny" at 131 pounds (maybe because that crazed stalker lady who tried to run over her husband also gave her a tapeworm!) We don't really see it, but then again, some of us haven't yet been brainwashed by Bonnie Fuller!