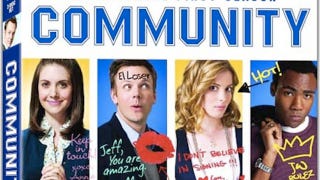 NBC did something non-terrible this afternoon when they announced that beloved but thinly watched sitcom Community will be returning to the network's lineup this spring. While this news is worth celebrating, don't have a paintball orgy yet— they haven't committed to a fourth season, which means the show's future may be hanging on by a thread.
When Community went on hiatus this fall, viewers reacted with a combination of dismay, outrage, and annoyance at whoever the fuck's idea it was to keep Whitney around. But now, NBC executive says fans can expect at least a few more episodes.
So, Community fans, this is your chance to make the show's waning episodes count. Watch, tell your friends to watch, and buy the things the advertisers tell you to buy. Do it! Or it may be a very long time before we see Joel McHale or Donald Glover goofing around without their shirts on again.
'Community' Returning, But NBC Won't Commit to a Fourth Season [The Wrap]