As imprisoned journalists Laura Ling and Euna Lee await negotiations that will hopefully secure their release from North Korea, friends and family speak out on their character, and formerly detained journalist Roxana Saberi offers some advice.
Former coworker Derrick Shore, who traveled with Ling to dangerous areas of São Paulo, says, "she had this way of making me feel calm." Another friend, Morgan Wandell, says of Ling, "for as long as I've known her, [she] has always had a global conscience and was interested in stories that were happening around the world." And a former employee, Dan Beckmann, adds, "I've never had a boss who was ever that worried that everyone working for her was happy." Beckmann also knew Lee, and says of her, "She's one of those people who's the unsung hero, makes sure the work gets done — she was working to help out the team when she went to China because she was the only person on the team who spoke Korean."
Though some have said that the women jeopardized themselves and put the United States in a bad position when they crossed into North Korea, their families say that if they did in fact cross the border, it was unintentional. "We don't know what really happened on March 17, but if they wandered across the border without permission, we apologize on their behalf and we are certain that they have also apologized," the families said in a statement.
Asked for her take on Ling and Lee's plight, Saberi, who was released from Iran in May after a four-month imprisonment for alleged spying, says,
G/O Media may get a commission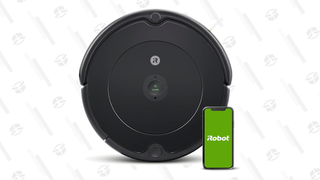 35% Off Black Friday Deal
iRobot Roomba 694 Robot Vacuum
I imagine they feel very wronged to have been detained and tried without their basic human rights being observed. They might also feel disoriented to be experiencing all this in a place whose laws and customs are foreign to those of the country in which they were raised. They likely see themselves as political pawns in a larger, complex game.
She has this advice for them as they await their release:
Try to turn the challenges you are facing into opportunities. Do not fear but love, have hope and courage, and stand up for what you believe in. No one can hurt your soul. You are not alone. You have a whole world of supporters who are rallying and praying for you.
Friends speak up for L.A. journalists held by N. Korea [LA Times]
Saberi to Lee and Ling: 'You are not alone' [CPJ, via Columbia Journalism Review]
Earlier: American Journalists Sentenced To 12 Years Hard Labor