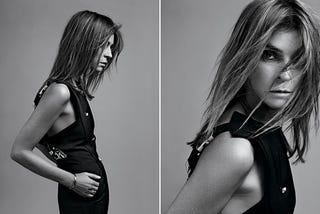 If your brain is anything like mine when it comes to absorbing pointless crap, you probably know Carine Roitfeld edits French Vogue! And chances are you also know that French Vogue is like, more French than our Vogue. The cliches are true! They are much edgier than Americans. And thinner! And more fashion-y! Does any of this make her an interesting person? This week's New York magazine finds out: not really! Here's Carine on politics: "For us [Carla Bruni's romance with French President Nicholas Sarkozy] is good. She is very glamour. She can fit in the clothes." She once held the job of "muse"! "I was just looking the way I was looking, sitting the way I was sitting. Making the girls look like me." But you'll be relieved to know a rumor about her making her staffers weigh in on her office scale every day is false. And that if not large, she contains multitudes! "She lists beauty and jewelry as evidence that the job as editor-in-chief has expanded her range of interests." Though she doesn't know how to use a computer! Oh for Chrissakes, surely there is something slightly deeper about this woman...oh here! She just returned from a meditation retreat in Thailand.
"You think this will be so glamorous," she sighs. "You have the idea in your mind and then you get there and the people in the hotel ..." She grimaces and gestures hugely in the hip area. "There were lots of people who were so fat and like that."
God, how ever does she cope with all the grim reality of human existence she encounters every day?
"They are," Roitfeld says of her family, "why I am so down-to-earth. They keep me very ground."
The Anti Anna [New York Magazine]