Remember the horror of that almost-unrecognizable atrocity at left? Turns out we can blame Pascal Dangin for that. Dangin, you see, is what writer Lauren Collins, in this week's issue of the New Yorker, calls "the premier retoucher of fashion photographs", a onetime hairdresser who so believes in reincarnation (symbolic, not metaphysical) that, when he moved from France to the U.S in 1989, he chose the first very flight out of Charles de Gaulle airport on the very first day of the new year.
Many women are transformed by Dangin's computer stylus, which sits in a basement laboratory at "Box", his four-story, Manhattan Photoshop fortress: In addition to Drew, there is the trophy wife with the "flat" face and "short" legs; the shoulder blade found "in a recent project at W"; the cast of the Sopranos; Prada models; "a famous actress in her late twenties"; a "crunchy"-faced model; "another well known actress"; "an actress with a movie coming out this spring"; Kate Moss; models Liya Kebede and Raquel Zimmerman; Madonna. And then there is model Christy Turlington, who, Collins explains, "needs the least help".
Collins, interestingly (purposefully?) glosses over Dangin's flaws as adeptly as he reshapes a model's nasiolabial folds. Her interview subjects, she explains, liken him to "a translator, an interpreter, a conductor, a ballet dancer articulating choreographed steps". (She compares his work to that of painters Jasper Johns and John Currin; he is, she later explains solemnly, "savantlike".) Collins also seems almost resolutely disinterested in exploring Dangin's role in perpetuating unrealistic standards of beauty and when a photograph ceases to be a photograph and becomes, what Redbook editor Stacy Morrison once said, "an image": most of the critics and/or experts of photo manipulation Collins quotes are all long-dead; the only living people she does quote are all fans of Dangin; and she all but skips over the news that Dangin retouched Dove's "Campaign for Real Beauty" advertisements. And when she finally gets around to asking Dangin about the work he does and how it affects and defines those aforementioned standards of beauty, she follows his explanation — "I'm just giving the supply to the demand" — with a cynical parenthetical announcing, "fashion advertisements are not public-service announcements." (Yeah, tell that to Newsweek's Jessica Bennett, who put up this story on Friday, quoting a NYC stylist as saying "those young kids looking at the magazines, they're dreaming of something that doesn't exist.")
G/O Media may get a commission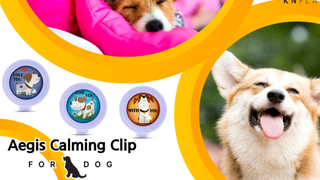 20% off
Aegis Calming Clip for Dogs
The work Dangin does, has, not surprisingly, made him very rich. (He owns homes in Manhattan, the Hamptons, and St. Bart's; in addition to the cover portrait of Barrymore, Dangin, with the help of favorite Photoshop tools as the smudge brush, the warping tool, and the clone stamp, retouched — or "tweaked" — 107 advertisements and 36 fashion photographs in the March 2008 issue of Vogue alone.) It has also, interestingly, made him somewhat of a god among the egotistical, easily-unimpressed bigwigs in the fashion and photography industries, who defer to his whims without a second thought. His list of clients is both impressive and iconic: Steven Meisel, Patrick Demarchelier; Annie Leibovitz ("Just by the fact that he works with you, you think you're good"); Inez and Vinoodh; Craig McDean, who says he gives Dangin "carte blanche" to basically do whatever he wants. Whether Dangin enjoys all the adulation and deference that comes his way, Collins does not make clear (nor does she explore the fact that from the photographers to the photo retouchers to the art directors, images of women in fashion magazines are manipulated and decided upon by men before they ever appear before a female fashion editor's eyes.) As for the things Dangin doesn't enjoy — on the women whose photographs he alters, that is — they include the following: ropy blue veins; bony temples; fleshy chins; bumps of all sorts; big knees; "slumpy" legs; bad pores. Oh, and of course, fat asses.
Several days later, Demarchelier returned to the studio to continue winnowing images for the show. The conversation turned to which shot to include of another well-known actress.


"I like her in this one, because she looks very natural," Dangin said.

"Yes," Demarchelier agreed. "In that other pose, she looks like an actress."

"But she's also very good here," Dangin said, of a shot that showed her partially nude.

"Yes, she's very beautiful in that position. Do you want to cut it?"

"No, no. I'm going to keep it for the ass," Dangin said.

"Maybe we could redo the ass."

"Yes, the ass is quite heavy."
Pixel Perfect [The New Yorker]
Related: Picture Perfect [Newsweek]
Earlier: Photoshop of Horrors

Vogue Cover Girl Drew Barrymore Has Been Powerfully Photoshopped

Our Fifteenth Minute: That Faith Hill Photo Wasn't Actually A Photo, Redbook Editor Explains