After being targeted with criticism regarding its March issue and Beyoncé's African Queen photo shoot, L'Officiel has issued a statement:
L'OFFICIEL is very proud to present its March issue featuring Beyoncé in African-inspired dresses and jewellery by top designers, including Gucci, Azzedine Alaia, Fendi, Pucci, Chanel, Louis Vuitton, Rodarte, Dolce & Gabbana, Cartier and Lanvin. Designer Tina Knowles, who is also Beyoncé's mother, created a one of a kind couture piece. The designs are all reflective of the African influence on fashion this season. Miss Knowles poses with royal allure. A queen, a goddess, Beyoncé is a bombshell beauty with a divine voice. We're thrilled she's opening a season of celebrating the 90th anniversary of L'Officiel de la Mode. The series was conceived as using art and fashion in paying homage to African queens.

Beyoncé mentioned the artist Fela Kuti in the interview as one of her musical inspirations. It was later misquoted as the inspiration for the shoot. We would like to clarify that it is not the case.

As for the artistic makeup, the inspiration came from several African rituals during which paint is used on the face. We find the images beautiful and inspiring.

L'Officiel would like to thank Beyoncé for her outstanding contribution to this celebration of African influences in Fashion.
Good to know. After writing about her dark makeup earlier this week and wondering if she was using blackness as a fashion accessory, I received some pretty hateful messages. One brave, anonymous soul wrote:
"I saw your comments on beyonces photos in the march issue of L'Officiel Paris and you could not sound any more arrogant and retarded. She is not 'using blackness as a fashion accessory.' It is a specific tribute to a specific inspirational person from history… Its no different from a while girl powdering her face to look like fucking marilyn monroe. You are starting a controversy for no reason at all… Shut the fuck up so racism can actually go away you dumb bitch."
Since we now know that Beyoncé was not, in fact, doing the shoot inspired by "an actual person in history," this argument is moot. But thank you, dear reader, for your eloquent and reasoned thoughts.
I still maintain that the dark face makeup is bothersome, and the explanation — that the inspiration came "from several African rituals during which paint is used on the face" — does not sit well with me. Here's why: No particular tribe or religion is mentioned. There are literally hundreds of ethnic groups on the continent of Africa, and face paint is used in many different ways. So if you're not specifically copying a particular people, religion or "ritual," then what you're really doing is just asserting that "face paint" is something "Africans" do. It's a very Western/Eurocentric way of thinking. Africa is a vast continent with many bustling cities. I've been to places like Tunis, Tangiers, Marrakesh, Gaborone and Johannesburg, and while I did see folks wearing jeans and t-shirts, I didn't see anyone wearing leopard skin and face paint. Of course some people, in some regions, on some occasions, do paint their faces. The Bororo of Niger use yellow and red; Xhosa usually have white smears or a series of tiny white dots. It just seems as though Beyoncé and the folks behind the photo shoot painted her face to make her look more "African," using a narrow, uninformed definition of the word. It also seems probable that, as a fashion magazine, they most likely did it because it looks cool. And if that is the case, they should just say so. Beyoncé's gorgeous, talented and smart; she has the right to paint her face black and I have the right to think it's a terrible and offensive idea. And in the end, this misstep has given her — and the magazine — a heap of free publicity.
G/O Media may get a commission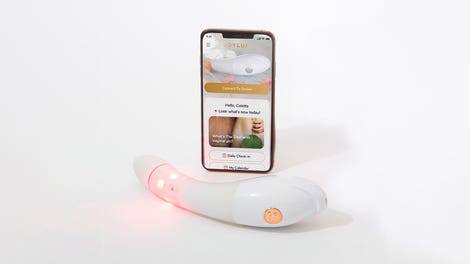 $50 Off
Joylux vFit Gold Device
Beyonce: African-Inspired L'Officiel Photo Shoot! [Just Jared]
Beyoncé Criticized for 'Blackface' Photo Shoot [Rolling Stone]
Beyonce's Darkened Face Causes Controversy [Fox]
Beyonce Darkens Skin for L'Officiel Magazine [Pop Eater]
Beyonce Under Fire for Blackface Photos [OMG]
Earlier: Beyoncé's Face "Voluntarily" Darkened For Fashion Shoot