Back in the day, womens' clothes were marketed as having a purpose, and that purpose was to snag a man. How else to explain this Frederick's Of Hollywood catalog from 1964?
The movie How To Marry A Millionaire — starring Marilyn Monroe, Betty Grable and Lauren Bacall — was released in 1953. Afterward, a TV series starring Barbara Eden ran for two years. And ten years later, the FOH catalog promised shoppers could "Get That Marry-A-Millionaire Look."
The "look" was all about an hourglass shape: Nipped waist; exaggerated hips and bust. And the wording emphasized that these ensembles were not about how they made you feel, but how another person would feel seeing you in them. For example:
Here, the shoes are not marketed as cool, chic, stylish or indulgent. They're "ultra high," for "shaplier legs" and called "attention getters."
G/O Media may get a commission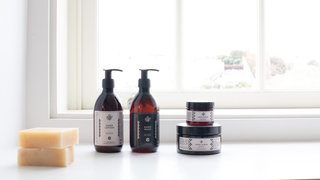 Exfoliate and Hydrate
The Handmade Soap Company
"Provocative Pastels." Clearly, the person wearing the garments is not the one being provoked.
Some clothes are advertised as being luxurious, or inexpensive, or fun — these underthings have work to do:


…And their mission is to "captivate."


Though styles have changed, Frederick's still uses this kind of language — this is from a 2008 catalog:



"Seduction" is the goal — not comfort, or your feelings, as a woman. Unless your feelings are: snag that man. Please that man. Wear what he likes. Maybe even do what he likes? After all, Frederick's sells this:
Even if a woman has fun dressing up, feels empowered when she "captivates" or "seduces," isn't it interesting that the garments are overtly advertised as not really for her?


Retroslutty: 1964 Frederick's of Hollywood Catalog [Copyranter]
Earlier: Frederick's Of Hollywood: Not As Slutty As You Might Think! (But Still Pretty Slutty)
Frederick's Of Hollywood Has A Heart-On For Valentine's Day