Greek Life, the wider term for North American student organisations known as fraternities and sororities, is not typically known for for its inclusion. However, most major groups are, in fact, completely inclusive of lesbian, gay, and bisexual students.
Get Real, an organisation at Canada's University of Western Ontario which aims to provide anti-homophobia workshops to junior high school and high school students, filmed members of UWO's Greek Life community. In the short video, members of several major Greek organisations (FIJI, A-O-Pi, Kappa Alpha Theta, PIKE, Kappa Alpha, just to name a few) speak about their own experiences with LGB members of their organisations, or in some cases, their own experiences being queer members of these groups. And the statements made by both straight and queer members are heartwarming.
The sample size is fairly limited. One university, and one council. It should be noted that when one typically thinks of "Greek Life" on major US and Canadian campuses (like the chapters in the above video), one is thinking of Inter-Fraternity Council and National Panhellenic Council, or predominately and historically white organisations founded in the mid and late 1800s. However, there are other types of non-social organisations and of course other social councils, like the traditionally African-American Divine Nine or NPHC and the Multicultural Greek Council which often serves recently created organisations for Latina and Latino students interested in their own cultural additions to the system. At particularly diverse schools, there will be a great deal of racial crossover between councils, with white members of the Divine Nine or African-American members of the MGC and everyone in the NPC.
Notably missing, of course, is any openly transgender students. As a member of a very diverse and major North American fraternity (and one which I am active in as an alumni, and one not in the above video), I can personally speak to how little knowledge there is of transgender recruits and how to handle them. One of the reasons I opted to rush a major fraternity despite support from the local chapter of a major sorority (one which was mentioned in the video above), is because it was unclear that nationals would approve me, and with so many diverse characters in the fraternity chapter I ended up joining, I felt at home. My chapter president was bisexual, my pledge class president was gay. Do you think either of them, or any of my brothers cared about my gender identity? Nope. The sorority on the other hand? Some sisters were greatly concerned about backlash from the national organisation, and I did not want to put the very chapter I wanted to join in danger.
Among fraternities, I think inclusion is a mixed bag, but mostly trends towards exclusion. I have recently spoken to my own leadership regarding the inclusion of transgender men in our fraternity. The leadership is discussing how to write a final verdict, but right now trans men will not be immediately turned down. If a chapter has a transgender rushee, the chapter is to contact the national organisation who will send a representative to make an individual decision. The member of the fraternity national council I spoke to specifically, who I believe you could consider the "secretary" (although we have a different name), said he was specifically one of the executives in favor of allowing trans men... But he is having some difficulty convincing other members of the council. He believes it only to be a matter of time, the same way the organisation had to catch up with racial integration and expunging homophobia, not to mention the near constant war against hazing. Something I never, ever experienced, but have seen when visiting at other chapters (and stepped in to stop).
G/O Media may get a commission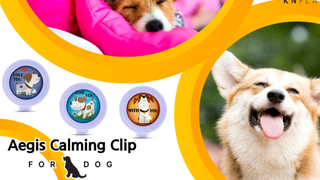 20% off
Aegis Calming Clip for Dogs
Many sororities have very vague sorts of pronouncements on benchmarks for trans women who wish to join, or even to rush as "potential new members." Speaking to various alumna of different sorority Greek organisations, I have been routinely confronted with nonspecific requirements that a trans woman "be fully a woman." Usually this is code for medical transition if not surgery. I often have to explain to sorority women I speak with, it is unrealistic for many trans women at university to be able to afford hormone replacement therapy, let alone any kind of sex reassignment surgery. Like many cisgender people unfamiliar with the transition process, most are shocked to hear the associated costs. Even legal transition, the change of documents, can be expensive and time-consuming.
So as far as we as Greeks have come combatting homophobia, we still have a very long way to go to end the exclusion of and confusion around transgender recruits. If you know of Greek Life organisations which are trans inclusive, please let me know in the comments.
Video via Get Real/YouTube.