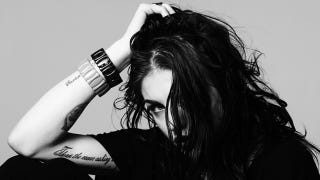 Former Dior Homme designer Hedi Slimane has posted a gorgeous gallery of images on his blog, featuring a young woman with large eyes, dark hair and delicate text tattoos. She is Ms. Frances Bean Cobain. Huh? What? Why? We don't know. We only know she's stunning.
You can see glimpses of both her father Kurt Cobain and her mother Courtney Love in the moody photographs of the 18-year-old.
Her mother's (old) nose.
Her father's eyes.
The ennui is all her own. More here.
Hedi Slimane Diary [Hedi Slimane]