The Roseanne reboot had incredible ratings right out the gate, buoyed by nostalgia and curiosity about how the show would transpose the real Roseanne Barr's Trump support onto her fictional character. The line between them has always been thin, but for former fans, it's a bit baffling that Roseanne Conner is so different from their memory. It turns out, it's weird for the people who wrote that character, too.
BuzzFeed interviewed a number of writers who worked on the original Roseanne; some only wanted to speak anonymously, while others were willing to go on record to say the Roseanne Conner they helped Barr shape has a completely different perspective on the world than the one we're seeing now:
"A lot of people involved in the show were surprised when she turned right-wing and supported Trump because that was just not the person or her character that we had known," said TV writer Stan Zimmerman, who worked on Roseanne for two seasons.

"I don't recognize that character," said one writer, who asked to remain anonymous because they still work in the industry and feared professional repercussions. "I believe the original character would've said, 'Who cares [about having Muslim neighbors]?' And now she's saying she does care."

"I don't think that Roseanne Conner would've voted for Donald Trump," said Miriam Trogdon, who worked on the show for two seasons. "I don't think that she would've, but apparently she did."
Trogden adds that she thinks the original Roseanne would have had a serious problem with Trump's "attitude toward women and his misogyny," which seems like a big ole subtweet to Barr. She also adds that Conner would have been more suspicious of a super rich guy trying to appeal to the Conners, a lower-middle-class family. But Barr is rich as hell, of course, which is likely the missing puzzle piece in all this.
The reboot does explain Roseanne Conner's Trump support by saying he "talked about jobs," but Trogden says they don't dwell on it in the way they might have in the '90s. One writer, Lois Bromfield, thought Barr's current politics were a hoax when she heard about them for the first time:
"I don't know her that way. I know her as a really open, liberal person," said Bromfield. "I don't know what the deal is with [her current politics]. I don't quite get it. I guess something changed in her life or maybe I just didn't know her that well."

"Roseanne is a really big supporter of women and human rights and animal rights," Bromfield said. "Roseanne is not a bigot, she's not a backward person at all, so her liking Trump is just so odd. It comes out of left field."
G/O Media may get a commission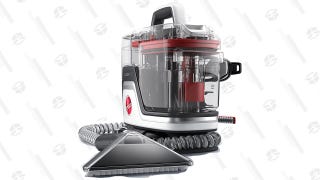 Save $10
Hoover CleanSlate Plus Carpet & Upholstery Cleaner
It almost sounds like these writers created a fictional Roseanne Barr alongside Roseanne Conner.