Ever wonder what LFO's Brad Fischetti is up to these days? Thanks to his Twitter feed (and Buzzfeed's story, which tipped us off), we now know he spends his days hanging out at the Orlando Women's Center and tweeting about patients who "need to be saved" from having abortions in creepily specific detail.
Ana Gasteyer Satirizes the Girl Boss in 'American Auto'
"Please pray 4 Angel & Maria as they consider life," Fischetti tweeted on April 24th, adding a photo of the couple "in the valley of decision," aka having a conversation in a blue pick-up van. Because, really, who wouldn't want to be photographed by a man who loves girls that wear Abercrombie and Fitch while in the middle of grappling with a complicated and emotional decision?
When he's not posting photos of the clinic's clients and asking his followers to look up the names of the "abortionists," Fischetti attempts to crowd-source prayers with varying degrees of success. "MON I startd askng 4 ur prayrs. TUE no abortions. 2day, late term day closd! 2mrw closed! Other clinic ownd by DR closed! ur prayers are working!" he tweeted in late April. Later that day, the clinic opened, ostensibly because "Nurse told [protester] John Barros "We can't let them '2nds' (trimester) get away. 2 much $ n them." (Er, somehow, we highly doubt a nurse said that.) Perhaps the clinic also opened because it was, as Fischetti put it, "slammed" ... with women that needed its services.
G/O Media may get a commission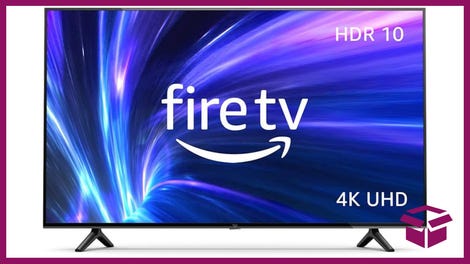 42% Off
Amazon Fire TV 50" 4K Smart TV
Thank God for Fischetti, really; otherwise, we wouldn't know anything about the personal decisions of the people who visit the center! But, thanks to his diligent live-tweeting, we know that a woman who "chose life" a few days ago came back to "choose death." Hey, awesome, thanks for the update on someone's life that doesn't concern you at all!
"What do u say 2 a girl who walks n the clinic who is so pregnant u would stop her on the street & ask when she's due?" Fischetti asked Twitter on May 6th. The only responses he got were from pro-choicers, but that doesn't seem to have deterred him. Maybe we should all start tweeting revised LFO lyrics at Fischetti. "New Kids On The Block had a bunch of hits / abortions make me sick." You're up.
Image via Brad Fischetti's website.