Okay, not really. But! "Now there is a new role model for New York's former Carrie Bradshaws - young women who are vegetarian, well versed in self-help and New Age spirituality."
Ana Gasteyer Satirizes the Girl Boss in 'American Auto'
Thus spake the New York Times: nueva-Bradshaws have hung up their Manolos and retired their Cosmos and, presumably, shelved their puns and whatever the latest version of the Name Necklace and the Big Flower were and are pursuing banality differently are "finding a way to make a living preaching to eager audiences, mostly female." The story profiles a former Bradshaw-esque publicist living the kind of glamorous lifestyle that seems to appeal to HBO subscribers, involving many velvet ropes and the sort of restaurant that tends to involve "ceviche samplers." (In my admittedly limited experience.) But now this woman has her priorities down and is a "lifestyle guru" who deals in meditation and the accompanying oils, much like the authors of "The Secret," "Eat, Pray, Love" and "Skinny Bitch."
In other words, the piece couldn't say more clearly, it's fad, pink-hued, candy-coated girly spirituality, practically of a piece with 20s spiritualism, and women love it.
The new wave offered up a few playful names for themselves - "the Charlie's Angels of Wellness," "Spiritual Cowgirls" and "Spiritual Superheroines." It's clear they are proffering guidance at a time when urban women like themselves are eager for it. Thomas Amelio, managing director of the New York Open Center, which has offered classes on self-transformation for 25 years, said that he has noticed far more women in their early and mid-20s signing up for classes on meditation, shamanism and Ayurvedic healing than ever before. Many started with yoga but have moved on. "They are looking for something that is functional and practical that makes life easier to deal with," he said.
G/O Media may get a commission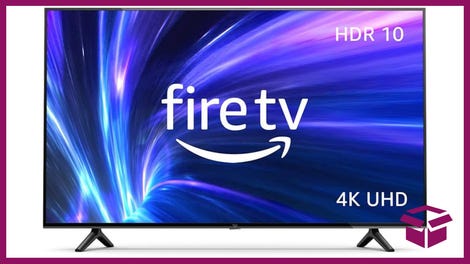 42% Off
Amazon Fire TV 50" 4K Smart TV
Well, all this is highly embarrassing. But even if there seems to be a hefty dose of narcissism to the whole thing, there are certainly worse things than eating well and doing yoga (I've heard.) What's funny though is that no one seems to think there's any conflict between Eastern spirituality and flagrant self-promotion. Indeed, as the article would have it, this seems to be a fairly integral part of the, um, creed.
Ilana Arazie, who used to produce a video blog about her dating life, Downtown Diary, discontinued it after becoming a client of Ms. Macaluso-Gilmore. She is preparing to start a new blog, Downtown Dharma, about spiritual pursuits in Manhattan. "You don't want to be stuck in that role of being the single girl," Ms. Arazie, 34, said. "You need to look at your life as holistic."..Sera Beak, 33, the author of "The Red Book: A Deliciously Unorthodox Approach to Igniting Your Divine Spark," is working on a documentary about women like herself. "We like to have a relationship and a career, but we know this internal search is a priority, too," she said. "It's one of the most important things you can do as young woman. You don't have to wait until you are middle aged."...Her pitch line for the film - " 'The Secret' meets Buffy the Vampire Slayer in a dark alley, naked" - has attracted notable figures to be interviewed, including Tom Robbins, the author of "Even Cowgirls Get the Blues."
I tend to shy away from anything involving Mr. Robbins and his self-serving view of female empowerment, which seems to involve free-spirited women begging equally evolved men to have anal with them a suspicious amount of the time. But again, I really can't see that this is much worse than the equally facile SATC credo, and really, if it's the same people, I for one certainly don't mind if they re-route the tour bus from the Magnolia Bakery to some sort of pastel-hued bikram-fusion studio. The ones who do suffer are those whose spirituality predates the past two months. As one friend wrote back after I forwarded this article to her, "Fuck. See, it's this kind of thing that makes it really hard to be a yoga teacher."

Seeing Yourself In Their Light [NY Times]