Jackson Cosko, the 27-year-old former Senate aide who hacked into the Senate computer system and then released the personal contact information of five Republican senators during the confirmation hearings of now-Supreme Court Justice Brett Kavanaugh, has been sentenced to four years in prison. Cosko's sentence was handed down on the same day that another former aide was charged over her role in the same leak.

Cosko had just been fired from the office of Democratic Senator Maggie Hassan when he, according to Politico, "downloaded a massive trove of data from Senate systems" after breaking into Hassan's office. Prosecutors argued that his goal was to gather information he could use to target and harass his former colleagues, but then later, upset by the way Republican senators were handling the Kavanaugh hearings, Cosko then decided to post the home addresses and phone numbers of several Republican senators on Wikipedia. The leaks included information about Lindsey Graham, Orrin Hatch, Mitch McConnell, Rand Paul, and Mike Lee. He was arrested in October of last year and pled guilty this April to felony charges—including computer fraud, witness tampering, obstruction of justice, and sharing restricted private information.
If the four-year sentence feels harsh, it's by design. As Politico reported, the judge in Cosko's case wanted to send a message:
U.S. District Court Judge Thomas Hogan said the sentence for Jackson Cosko, 27, was needed to send a signal that criminal harassment driven by political motives would be punished severely in an era marked by extreme political polarization.

"We have…a society that has become very vicious," Hogan said. "It's very concerning to the court and unfortunate that you played into that."
Cosko, who said he had been struggling with mental health issues as well as substance addiction and that he had entered a treatment program earlier this year, issued an apology. "I take full and complete responsibility for my actions," he said. "I am embarrassed and ashamed for what I did."
Meanwhile, another former aide to Maggie Hassan, Samantha Deforest-Davis, has been charged with two misdemeanors—aiding a computer fraud and evidence tampering—stemming from her role in Cosko's plan.
G/O Media may get a commission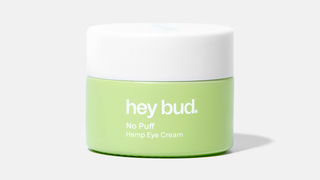 15% off
Hey Bud - No Puff Hemp Eye Cream
Aside from being fired from her job last December due to her involvement, it also appears that Deforest-Davis was a somewhat unwitting participant in the hacking itself. Per Politico:
Prosecutors say Deforest-Davis didn't give Cosko permission to use her keys the first time he surreptitiously entered Hassan's office, but the colleague later agreed to loan Cosko her office key and agreed to "wipe down" computers in the office to erase traces of Cosko's fingerprints. Deforest-Davis and Cosko had a "close relationship" and she also owed borrowed money from Cosko to pay her rent, court papers say.
Deforest-Davis is expected to plead guilty.