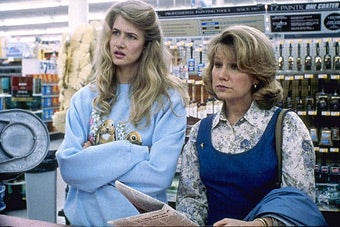 Either the Best or Worst Idea in the History of the World? Four words: Citizen Ruth, the Musical.


"He's fucked me good right up the rear!" warbles Ruth in the musical-comedy version of the cult 1996 tale of glue-huffing and abortion wars. Whether the show will have a life beyond the New York Fringe Festival is an open question, but right now you can check out the script ("[RUTH passes out, dropping the bag to reveal a face smeared with silvery paint)"] and listen to some of the score. Without having seen the show, it's hard to know how much is Po-Mo irony ("The Patio Sealant Chorale") and how much earnest theater ("you want me to kill my baby? kill it! kill it! ...what about what I want?") Regardless, it's a little dissonant to hear Laura Dern's profanity-laden dialogue being belted, and enunciated, by a trained Broadway soprano.
In combination with the news of the I Can Haz Cheezburger musical (and let's not forget Silence of the Lambs set to song lyrics) this project marks a new phase of American Theater. It may also end it. According to one theatergoer quoted in the Times, "I think we're due for something like that. . . .It's actually the right time to see something like this right now, with what's going on with health care." Yeah, we're guessing it'll really attract the Town Hall crowd.
Citizen Ruth Musical
At the Fringe: Street Reviews Of 'Citizen Ruth' [NY Times]
Citizen Ruth Offered A Check [YouTube]
Lolcats Take To The Stage With A Musical [CSMonitor]
Earlier: "Put The F**king Lotion In The Basket" Singlehandedly Revives American Musical Theater