The top row of shirts is by Forever 21. The bottom row is by a small California-based label called Trovata. Welcome to a peek behind the curtain at secretive, cult-y, and very rapidly growing fast-fashion chain Forever 21.
It's always a bad sign when, on a store tour with a retailer's head of marketing, a reporter sees a pair of shoes on the shelf that look exactly like the pair she has on. Except the identi-shoes are a different brand, aren't real leather, and cost less than a quarter of what she paid for them. "You should buy another pair here," suggests the marketing exec when the reporter, BusinessWeek's Susan Berfield, points this out. (Marketing execs are so unflappable.)
Although Forever 21 cooperated with BusinessWeek's story, the company wouldn't allow Berfield to even set foot in its design and merchandising headquarters, which are housed in a building of their own on Forever 21's corporate campus, a building with its own security. "The windows are covered with blinds," writes Berfield. Her requests to go inside "were met with laughs by Forever 21's representatives."
"Their design is swathed in mystery," says Susan Scafidi, a professor of copyright law at Fordham University Law School and director of the Fashion Law Institute. "But it probably looks a bit like a crime scene, with the chalk outline of the garments they're copying."
Forever 21 is a $3 billion chain that counts 477 stores in 19 countries and around 35,000 employees; it has been expanding aggressively during the recession, opening enormous new stores in spaces abandoned by retreating retailers like Saks, Circuit City, and Mervyns. Forever 21 expects to open another 75 stores in 2011.
The company was founded and is still owned by Do Won and Jin Sook Chang, Korean immigrants to Los Angeles. Do Won Chang has said he got the idea when he was working at a gas station, and noticed that all the nice cars were owned by people in the rag trade; Jin Sook Chang says that she went to a mountain one morning to pray and God told her she should open a store and that she would be successful. Jin Sook is in charge of whatever it is goes on in that merchandise building. Her husband handles everything else. Their daughters, Linda and Esther Chang, both have high-powered positions within the company despite only being in their twenties, and are expected to take over eventually. Linda wears Forever 21, but mixes it with Chanel.
G/O Media may get a commission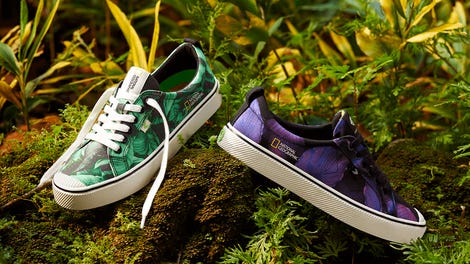 New New New
Cariuma + National Geographic
A lot of weird things stand out about the company culture. For one, there's the whole Evangelical Christian thing:
"Every decision that they made has been with thoughtful prayer," says Linda. Mr. and Mrs. Chang attend a daily 5:30 a.m. prayer meeting at the Ttokamsa Mission Church when they're in town; he also leads Bible study, and she's a deacon. "I think they get a lot of business ideas and insight during early morning prayer time," Pastor Ken Choe says in an e-mail. According to him, they've contributed millions of dollars to missions around the world and regularly go on missions themselves, including to Afghanistan, India, and Pakistan. They've told their daughters that when they retire, they want to devote themselves fully to the church. "Mr. Chang said he would have been a missionary if this hadn't worked out," says Linda. "This supports that. This is part of their missionary vision."
Berfield reports that there are Bibles at the company's headquarters, and it's generally understood that in order to advance within the company, one should be "saved."
And then there are the lawsuits. Turns out that having a brand new selection of $19.80 rayon blazers and $23.80 pleather shoes delivered by the ton daily is not easily achieved without ending up on the wrong side of labor laws. Forever 21 used to manufacture most of its clothing in Southern California, using a variety of local suppliers. The reasons were simple: Until 2005, an international textile trade agreement offered some measure of protection to the U.S. apparel industry and made outsourcing more expensive, and domestic manufacture also allowed for shorter lead times and a nimbler response to customer demand.
But there are also labor laws in the U.S. And in 2001, Asian Pacific American Legal Center and the Garment Worker Center sued the company on behalf of 19 workers who alleged they had not been paid legally required minimum wages and overtime. The lawsuit spawned a three-year-long boycott of the company and was the subject of an Emmy-winning documentary, Made in LA. Forever 21 eventually settled the suit (the terms are confidential). "It was a difficult time for them," Esther Chang says of her parents' reaction to the lawsuit.
Since then, the Changs have moved a lot of Forever 21's production to countries like China, India, Pakistan, and Vietnam. Still, Berfield finds one L.A. factory where workers earn 12 cents apiece to sew vests that retail for $13.80:
The California Broadway Trade Center sits on the edge of the garment district, across from the derelict Rialto Theater and just down the street from new lofts built in the old Union Bank. It's a nine-story building that houses at least 80 of these factories. At the loading dock, scraps of paper are taped to the wall, listing in Spanish the jobs available that day. The building looks uncared for, but not decrepit.

Some of the doors to these factories are open, making it possible to walk around unannounced. In one, on the top floor, with no company name on the door, about 30 people are sewing gray cotton vests for Forever 21 in a small, hot room. Many of them have stuffed scraps of fabric into their noses to block the particles of material floating in the air. They're just finishing up a one-week, 10,000-piece order for which the seamstresses earn about 12 cents apiece, according to Guadalupe Hernandez, a longtime garment worker in Los Angeles. If they sew 66 vests an hour, they'll earn minimum wage.
Oh, and there's also the whole ripping off other people's intellectual property thing. Forever 21 has confidentially settled more than 50 Forever 21 lawsuits with designers who have accused it of stealing their intellectual property. The only suit to make it to an open trial was Trovata's, at which Jin Sook Chang variously claimed on the witness stand that she didn't know what percentage of the company she and her husband owned, if there were any other shareholders, or even what her company's annual sales were. Trovata's lawyers, meanwhile, turned up evidence that the Changs, through various holding companies and investment vehicles, in fact owned or part-owned some of their biggest "independent" suppliers — the same suppliers Forever 21 attempts to publicly distance itself from whenever labor rights violations or copyright violations emerge from the production supply chain. Diane Von Furstenberg, Anna Sui — who once gave guests at her fashion show t-shirts that read "Forever WANTED: Don Cassidy and The Sundance Jin" that quoted Exodus 20:15, "Thou shalt not steal" — and Anthropologie are among the other designers who have won settlements from the company.
Forever 21 tends to avoid knocking off large and well-protected fashion companies, like Chanel or Louis Vuitton Moët Hennessy, both of which are notorious for aggressively policing their copyrights. Forever 21 knocks off smaller, less established labels — like Trovata, Alexander Wang, and Foley + Corinna, whose printed maxi dress is shown here next to its Forever 21 copy — because those brands are less likely to be able to mount a vigorous legal defense. Berfield also talks to a designer, Virginia Johnson, who saw a knock-off of one of her skirts for sale at Forever 21; when her lawyer contacted the company, "he learned that the company had a policy in place for just such scenarios. They would pay Johnson 10 percent of the $40,000 worth of skirts they said they had sold. When Johnson rejected that as too low, they offered $9,000, which she accepted. 'I was surprised how matter-of-fact they were,' she says." Forever 21 denies it has any such policy.
So: Forever 21's workers earn minimum wage — if they can sew an entire vest every 55 seconds. The Changs meanwhile buy their daughters Chanel and educated them at prep schools and Ivy League colleges. And if one of their dresses or tops turns out to have been someone else's idea first, well — the fat profits on all those vests make for lots of settlement money. Fast fashion, like a lot of things about the fashion industry, really isn't very pretty underneath.
Trovata/Forever 21 image from Trovata's lawsuit; Foley + Corinna/Forever 21 image via
Forever 21's Fast (And Loose) Fashion Empire [BusinessWeek]
Frontier Justice: Anna Sui Takes Aim At Forever 21 [Counterfeit Chic]