Warning: The following is a spectacularly lazy post. (It's the day after Thanksgiving and in addition to full stomachs, we have blissfully empty schedules this afternoon.) But it concerns an uncontroversial subject that most everyone can relate to: Food, specifically, the meals everyone enjoyed yesterday afternoon and evening. After the jump, we offer a rundown of our Thanksgiving meals as a way to solicit anecdotes about yours.
Anna: Butternut squash and apple soup. Sliced warm baguette. Glass of Bailey's (on the rocks). 4-lb. roast chicken with stuffing and gravy. Garlic mashed potatoes. Torbreck Barossa Valley Woodcutter's Shiraz (2006). Baked macaroni & cheese. String beans. Roasted Brussels sprouts. Crescent rolls. Blueberry cobbler. Pecan pie. Vanilla Haagen Dazs ice cream. Glenlivet on the rocks (left unfinished).
Sadie:
Spiced pecans/sherry. Turkey (brined, free-range etc.) Gravy (SS's job.) Mashed potatoes. Mashed bourbon sweet potatoes. Green beans with walnuts and walnut oil. Succotash. Cornbread stuffing with apples and sausage. Cranberry sauce. Rolls. Riesling and sparkling cider. Coffee. Apple pie (SS-made). Pumpkin pie (Cook's Illustrated; perfect and labor-intensive.) Chocolate bourbon pecan pie. Whipped cream.
Megan:
2006 Beckman's Cuvee. French bread with whipped, unsalted butter. Herbed risotto with wild mushrooms and butternut squash. Haricot vert sauteed with garlic and walnuts. Molten chocolate cake with raspberries and vanilla bean crème fraîche. Coffee.
Jessica:
Turkey. Sweet Potato soufflé. Wild rice with sausage. Salad with dried cranberries. Pumpkin Pie. Apple Pie.
G/O Media may get a commission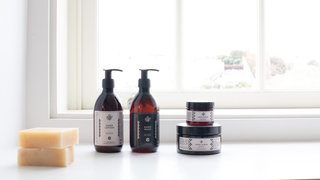 Exfoliate and Hydrate
The Handmade Soap Company
Your turn. Give us all the mouthwatering details: what worked, what didn't, and the recipes you discovered that must be shared with the world.