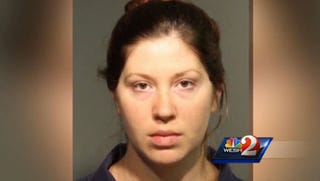 A Florida mom was arrested on Tuesday after she reportedly refused to allow her newborn baby to be admitted to a hospital or to be treated with non-vegan medicine.
This all started when a pediatrician told Markham her 12-day-old baby needed to be admitted for dehydration and weight loss. Markham refused and then took her baby home. The pediatrician then called police, who were sent to her residence. According to WKMG, when they arrived she refused to open the door:
Police used a locksmith to enter the apartment and interviewed Markham, who said she wanted to get a second opinion about her child, according to a police report. Police said Markham told them that she wanted to pursue a religious-based treatment and did not believe that her baby was dehydrated because the child was having bowel movements. Markham said she had contacted a "natural" or "vegan" doctor but was unable to provide any information about him, other than a name.
According to WESH, Markham was given medicine by the pediatrician which she told officers she had replaced with an organic alternative purchased at Whole Foods.
She told police that she refused to use the medicine because it contained ingredients that came from animals. Police said they asked Markham if the product was confirmed with a doctor that it was safe to give the newborn, and she replied saying that since it was organic, it must be OK.
The baby was eventually taken to a hospital for care and is now in protective custody. Markham was arrested and charged with child neglect without great bodily harm.

Image via WESH Orlando