"Holiday air travel is the best because everything flows smoothly and everyone is in such a good mood," said no one ever in the history of time. Holiday air travel is the worst. It's so the worst that it's not even worth saying how much it's the worst because everybody knows that already and complaining just adds to the problem. But guess what! It's about to get even more terrible for passengers on Hong Kong's Cathay Pacific Airways where flight attendants are planning on actively giving poor service and holding up flights to protest a salary dispute with their employers.
The Cathay Pacific Airways Flight Attendants Union have decided to take action following Cathay Pacific's announcement that they will give employees a 2% salary increase in 2013 as opposed to the 5% requested by the union. Rather than strike entirely, the union has decided to enact a "work-to-rule" measure, meaning all flight attendants will only be performing the bare minimum of the tasks required of them by their contracts, while, at the same time, following certain rules — specifically regulations that tend to slow down air travel — to a T.
Says union general secretary Tsang Kwok-fung:
"We will be selective in providing our services...This could include not smiling at passengers, not providing certain types of beverages — such as alcohol — or stop serving meals... In a nutshell it means passengers will still be able to reach their destinations except they are paying a five-star price to get a three-star service."
It's easy to gripe about the crabbiness of a flight attendant, especially when you're paying exorbitant prices to sit in a cramped space with a bunch of strangers for several hours. And, honestly, the idea of flight attendants refusing to smile, provide service or hand out meals (remember when planes served meals?) does not seem that far off from reality. In fact, it seems exactly like reality and when you're a passenger in that situation, it make sense to take out your frustration on the person refusing you the niceties and services that you feel that you've paid for (and you have).
Looking at the bigger picture, however, it helps to realize that the money that you paid isn't reaching them either. Flight attendants get paid little and their benefits are often limited. In the end, it's the corporate forces behind the airlines that are benefitting from raising ticket prices, charging for baggage and cutting the salaries of their employees. Everyone but them is a loser, which is why it will be interesting — albeit inconvenient — to see how the actions of the Cathay Pacific Airways Flight Attendants Union will go over.
G/O Media may get a commission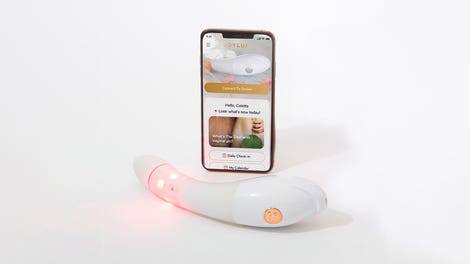 $50 Off
Joylux vFit Gold Device
P.S. Be nice to your flight attendants over the next couple of weeks. They're having a rough time, too.
Cathay Pacific Crew Threatens No-Smile, No-Booze Strike [Business Insider]
Image via MartiniDry/Shutterstock.