It's the tenth anniversary of Viagra! And given this rare nexus of the pharmaceutical industry, the institutionalized sexism that so famously led insurers to reimburse the Viagra prescriptions of the same men whose girlfriends couldn't get their fucking birth control covered, and the gazillions of terabytes of Viagra-hawking spam clogging the world's fiber optic cables, we should probably be doing some sort of angry feminist rant about it. But I'm feeling counterintuitive today! (And also, um, sex-positive.) So instead I compiled 5 reasons we should all stop worrying and learn to love the little blue pill so beloved by Jack Nicholson and 30 million other men too old to be having threesomes.
1. The story of Viagra starts in 1982 with a conference of urologists in Las Vegas at which one Dr. Giles Brindley decided to display off the effects of an injectible erectile dysfunction drug he was developing by brandishing his boner onstage. The doctors in the audience described his wang as long, thin, and grayish. It was the beginning of a reliable flow of fun, bizarre erectile dysfunction-related news stories and assorted stupid crap like this.?
2. Lots of dudes get prostate cancer. My dad, for one. Don't get me wrong, I do not want to think about my parents having sex. So I am going to end this entry before I get ahead of myself. I mean, when it all comes down, you're glad breast implants exist, aren't you?
3. Viagra actually definitively solved a physical problem. How many modern pharmaceuticals can even say that? For every person you know whose, like, life was saved by Zoloft, you probably know five people whose insurance companies have spent thousands of dollars sampling an array of mood-altering drugs that left them crazy, panicky, suicidal, incapable of solving any underlying problems and/or completely devoid of the desire to have sex. And couldn't most of our first world problems be solved by a little more sex?
4. Viagra helped people talk about sex. Again, agreed: you didn't want to picture Bob Dole and Liddy having sex, but you probably didn't want to picture Ron Jeremy having sex either, and now you don't have to, because thanks to Viagra the adult entertainment industry no longer has to rely on gross freaks who happen to have massive boner-prolonging capabilities.The Viagra salesman memoir Hard Sell — which I actually read for some reason — is full of heartwarming stories about uptight Midwesterners being emboldened to talk to their doctors — and then, their neighbors! — about fucking. And what followed? Bible Belt vibrator parties, the repeal of the Texas sex toy ban, and... well, the term "va-jay-jay", but every revolution has its lame elements.
G/O Media may get a commission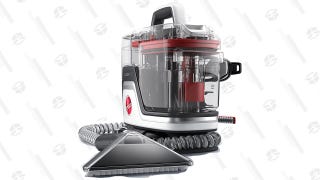 Save $10
Hoover CleanSlate Plus Carpet & Upholstery Cleaner
5. As long as I am going to get old, I would like to get laid. I mean, duh.