With models like Crystal "Vogue Paris" Renn becoming true crossover stars, and agents like Gary Dakin of Ford+ reporting so much demand that he turns work down, it seems like the fashion industry is finally starting to recognize the beauty of bodies that aren't runway-sample-sized. Here are five plus-size models we think are ripe for mainstream success. We'd love to see any one of them on the runway this fashion week.
The 5'11" Ukraininan Alyona Osmanova came on to the international modeling scene in 2006, at the age of 18. Her agency, Supreme, listed her measurements as 33"-23"-33" — actually an inch smaller than the straight-size runway standard. Osmanova's first season was pretty much a blockbuster: she walked for designers including Marc Jacobs, Donna Karan, and Thakoon, and scored the coveted Prada exclusive. (Every season, Miuccia Prada and her casting director, Russell Marsh, choose one girl out of the hundreds of hopeful new faces, and give that girl and her agency a pile of cash to walk in the Prada show and the Prada show only during Milan fashion week. Sometimes Prada also books the model exclusively for her Miu Miu show in Paris; Osmanova did both.) She went on to walk for Proenza Schouler, and Chanel and Givenchy haute couture, among many others. Over the next four years, Osmanova racked up editorial credits in the top magazines, including Vogue Italia, Teen Vogue, V, and Pop.
But during winter last year, with New York fashion week approaching, she found could no longer keep her weight down. "I did part of Fashion Week, and I couldn't [finish] because I couldn't fit in any of the dresses," Osmanova tells New York's Amy Odell. "I pretty much didn't know what to do for three months or four months, and I was trying to work out and diet but I was stressing out." She heard about plus-size modeling, and signed with Ford.
Since her switch, Osmanova has walked in the Elena Miro show in Milan, and modeled for Teen Vogue. (She told the magazine, "The body is such a unique gift, and we won't have it forever, so there's no time to hate anything about it.") Those are great bookings, but it's undeniable that Osmanova's career has slowed down significantly since her crossover to plus — which is a great shame on the industry. Osmanova is an experienced model who's worked with some of fashion's greatest talents. Why aren't more clients keen to capitalize on that? Where are all the designers and the magazines who were scrambling to book her two years ago? Where's Russell Marsh? With legs for miles and those cheekbones, if ever there were a girl destined for high fashion, Osmanova is it.
G/O Media may get a commission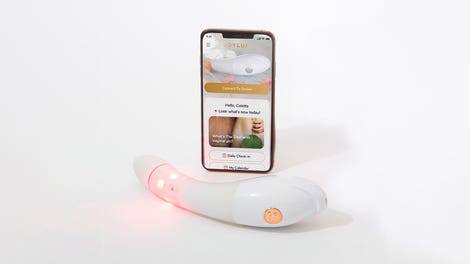 $50 Off
Joylux vFit Gold Device
The striking, 6' tall bi-racial Swede Sabina Karlsson is, like Renn and Osmanova, yet another girl who struggled as a straight-size model with the industry's size restrictions, and emerged later and healthier as a plus-size model. Karlsson was first launched into the industry in 2005 at the age of 17 via the Ford Supermodel of the World competition, which the agency uses to scout for new faces. She also competed on Sweden's Next Top Model (Karlsson came second). During her first New York fashion week, Karlsson booked 12 shows, and she would go on to walk for designers including Jean-Paul Gaultier, Betsey Johnson, and Tracey Reese.
At the time, her agency gave her hip measurement at 36", which is definitely on the larger side for a runway model, and there was some industry sniping about how Karlsson was "bottom-heavy." In 2007, she told a magazine, "It's sad that the model world requires models to be so skinny, just so they can fit the designer clothes. And, in a way, it's the designers who are pushing this problem forward — if they keep on making clothes in size zero, models will always need to be a size zero." (She claimed in the same interview to maintain her weight with healthy eating and exercise habits.) On the editorial side, Karlsson worked for American Elle (and we loved her in Glamour), and she did ads for Madewell and American Eagle.
Karlsson crossed over to plus-size modeling in 2010, and I noticed her in the One Stop Plus show at New York fashion week. You can see her and Osmanova interviewed by fellow plus-size model Ashley Graham (otherwise known as She Whose Cleavage Was Too Hot For Fox To Handle) here. Karlsson has the kind of truly unique look that fashion ordinarily values — those freckles! that red hair! that gap! — and it would be a natural fit for her to continue doing now the kind of edgy jobs that she was booking as a teenager.

Ashley Graham
Speaking of Ashley Graham: she's gorgeous, even if she's not so much a model to watch as a model we are already watching, and have been for a while. Ashley Graham is obviously highly photogenic, but she's also so beautiful in person that the first time I met her — at the Lane Bryant flagship on 34th St., where I had gone to interview Crystal Renn — I was almost speechless. And I pretty much write about models and modeling for a living. Graham has lately been working up a storm: not only was her censored Lane Bryant ad a boon for her career, even before it had aired, she was already shooting for magazines including Glamour and American Vogue. (Well: American Vogue's annual "Shape" issue. Why not any of the other eleven issues, Vogue?) She is also the latest face of Levi's. Ashley Graham needs to be the face of more things, stat.
Marquita Pring hit my radar after her star turn for Solve Sundsbo in V last year; she followed up last September with a trip down the catwalk for Jean-Paul Gaultier, and back-to-back Levi's campaigns. Pring is 20, and she's been modeling for several years. I think fashion needs to see more of her. Will she show up on the New York runways this season? If she does, you'll be the first to know.
I probably ought to disclose right off the bat that I've met Leah Kelley numerous times, and shared wine and conversation and at least one pretty terrific Mexican dinner with her. (Also she once lent me a copy of I Know This Much Is True, in the way that friends-of-friends sometimes loan one another books for extended periods, and I am afraid I have neglected so far to finish it.) But if there's one thing above all else that biases my opinion of Kelley's work — aside from her superlative trampolining skills — it's her beauty. And my attendant belief that this stunning blonde from Sacramento should be getting even more work than she already is. Kelley's modeled for designers including Marina Rinaldi and Elena Miro, as well as clients like Nordstrom, Macy's, and Saks Fifth Avenue. She shared this story of how she came to be "discovered":
"I was 19 and in my second year of college, working for a tow truck company in Sacramento (yes, I can unlock your car or change your tire) when I was discovered. It began while I was browsing the internet, and I saw a link through MySpace for the Ford Models online submission. I did not really think very much of it, and it took about a month for a reply. I actually almost deleted the response, because I used to get a lot of emails from auction lots relating to the automotive industry, and I misread the sender as Model Fords. I ignored the email for about four days."
Thank God she opened it. And now, will someone get this girl an editorial in Vogue Italia? Please?
There are plenty of other great plus-size models I would love to see get more work. In addition to those mentioned above, there's Lizzie Miller, Inga Eiriksdottir, Candace Huffine, Tara Lynn, and Amy Lemons. Fashion is far from perfect — and what the industry needs to do away with, more than anything, is the notion that making room for one token plus-size model at a time is acceptable proof of "inclusivity" — but it seems that some change is happening, albeit slowly.