The most recent trailer for Finding Dory, the follow-up to the 2003 smash hit Finding Nemo, features a pair of women who may or may not be the first-ever same-sex couple to appear in a film made by Disney Pixar. Unfortunately, they are not queer fish.
The new teaser, which premiered last week on The Ellen Show, features a seconds-long clip in which two women attempt to comfort a child who has been knocked over by an octopus in a renegade stroller, which is a sentence I never thought I would ever write. The footage featuring the pair has caused widespread speculation as to whether they are romantically linked.
While the brief appearance of two possibly lady-loving-ladies—both of whom appear to be one-off characters—might appear to be insignificant for some, Salon's Nico Lang pointed out how their cameo is essentially a paradigm shift—one that essentially subverts the traditional trope that any non-heteronormative character can never be overtly labeled as such, and instead only be subtextually coded. As Lang writes:
If audiences are perhaps jumping the gun in anticipation of this possible milestone, it's because queer people are desperate and hungry for more than we've been given in the past. [...] The potential case of "Finding Dory," however, shows how easy it is for studios to aim higher than the bottom of the barrel. Like many of the characters included in the GLAAD report, it's unlikely that the couple (if they are, in fact, lesbians) factor into the movie's overall plot. They're glorified extras. But if fans are excited about what's — at best — a few moments of screen time, it's because LGBT people rarely get to be in the picture at all—whether it's as background actors, wacky sidekicks, inspiring mentors, or even the hero.
As of now, Disney Pixar has not commented on the matter.
---
Contact the author at jamie.reich@jezebel.com.

Image via YouTube.
G/O Media may get a commission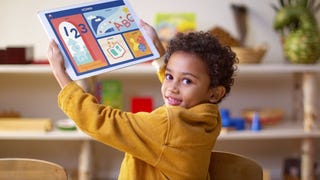 30-Day Free Trial
Homer Learn & Grow Program