Last night's episode of RuPaul's Drag Race had a sitcom challenge, in which the queens had to do an insanely cheesy scene from a mythical show called Hot in Tuckahoe. Team Madame LaQueer was a big old mess — Kenya was miscast as a butch prison guard, and MLQ didn't seem to understand she was supposed to be the prissy, uptight one.
---
Team Willam did a better job with the cheesy script — Latrice Royale is a ham! Willam, on the other hand, is getting on my nerves, what with all his blabber about acting experience and Westwood gowns. Brag drag.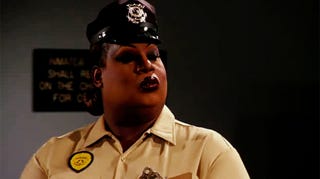 Anyway! Madam had to sashay away, because there was no way she could win against Milan in the Lipsync For Your Life. This gif from FuckYeahRuPaul'sDragRace sums up my feelings about her performance.
PS: THIS.